The most exciting time of my life
Hey, my name is Lea, I am from Germany and I am spending an exchange semester in Georgia, close to Atlanta.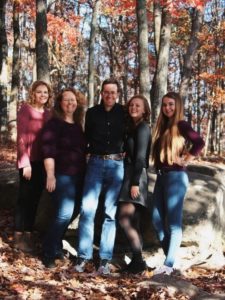 I live here with my host parents, my two host sisters and my two 'host dogs'. I really love my host family, because they are just amazing and so it didn't take me long to feel comfortable in their home. They treat me like a real member of the family which I appreciate a lot! Also, I lost my fear of dogs over here, since I live with dogs for almost five months now. My host family did a lot of awesome activities and trips with me, like for example our trip to Florida or Tennessee, the soccer and baseball game we saw and a lot more! I really got to experience the American life and culture!
My school here is huge, with close to 3000 students and since I am used to a small school in Germany my first two weeks were difficult for me, because I had to figure out where to find my classrooms and how everything works in American public high schools. Believe me when I say: it is going to be way different than what you are used to! But you'll get used to it and love it!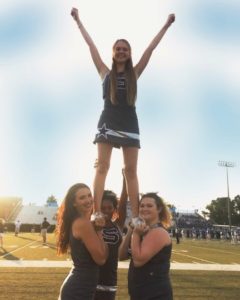 Another big part of my high school exchange semester was cheerleading! I made it on the varsity spirit cheer team for my high school. We had practice twice a week and the football games on Friday nights were always the highlight of the week! In Germany every student dreams of being a football cheerleader in America and I still can't believe that I got the chance to experience that! And I'm definitely going to miss wearing my uniform to school on Fridays, having practices with my amazing team and cheer for my schools' awesome football team.
Also homecoming was a thing I was really looking forward to over here! It has always been one of my dreams to experience homecoming where the American girls dress up with cute dresses and make-up. And although it was way different than I expected it to be, it was still a supercool experience!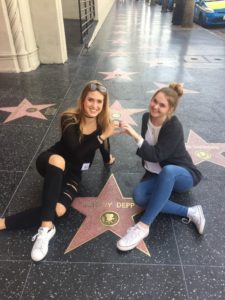 One of my highlights was my trip to California! If you have the chance to travel, take the opportunity! The trip started in Los Angeles and we traveled to San Francisco! We saw the universal studios, Madame Tussauds, the walk of fame, Disneyland, the famous cable cars, Golden Gate Bridge and way more! I met exchange students from all over the world and I learned a lot about other cultures and made good friends!
A big part of my exchange semester is also my ICES local coordinator Jenny! I got really close to her the past months and she is always there for me when I need her help or advice. Since I want to work as a news anchor later, she offered to take me and my host sister to CNN! We were having a blast that day and I am still so thankful that I got to experience that also!
A last quick advice for all the students who are not sure yet whether to take the risk and do an exchange year or semester: If you've got the chance, do it! It is really a lifetime-experience and when else if not now are you going to get the chance again? You will grow in this time and even if not everything is perfect, you'll become even stronger. And I'm sure that you will come back and say: I'm glad that I did it. I'm proud of myself!

Lea K, exchange student from Germany🇩🇪
living with her host parents Chris and Steffanie Jetzsch and host sisters Brenna and Jessika
in Snellville, Georgia