I remember the beginning of this experience as a normal day of school in my town of Sant Cugat, Barcelona.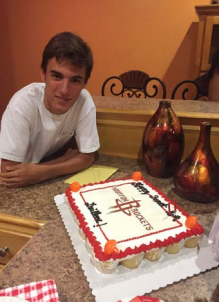 I arrived home, to find my parents sitting in front the computer, this is not normal. As I proceeded to greet them, they told me that they had something important to tell me…I had a new family! A family that would take care of me during my 10 months exchange program.
Immediately, we began to investigate where I was going, who the family is, etc. The biggest surprise they had another exchange student from Germany living with them already. This was an incredible advantage for me, she helped me a lot giving me advice and telling me about life in Norcross, Georgia.
My family and I scheduled a Skype meeting to meet my new family. During the 5 months before I joined them, I had time to talk with my new family and learned about them. My new sister Nyasia, exchange student Ingrid formed a bond and started chatting by messenger. We would exchange pictures and videos of things we were doing.
On my arrival to Atlanta, Georgia I didn't know what to say and do, but my new family instantly helped me by telling me how things are and what they expected to do in order to make my experience as good as possible. The relationship with them was incredibly good, I shared a lot of interests with my new sister, we both played basketball, like the same music, same TV shows, and it was comforting.
"These past 6 months here in Norcross have been amazing"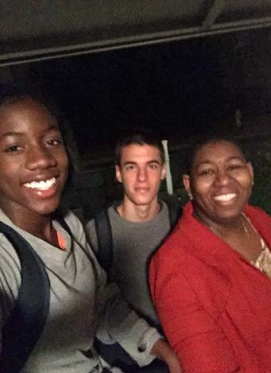 When school started I made lots of new friends, sports helped me meet new people and enjoy the same activities that I was accustomed to. I was given the opportunity to play basketball for a local community sport group called Innerman Rebels, this was an incredible experience.
My sixteenth birthday turned out to be out of this world! I will remember that weekend forever – Saturday I invited some friends to celebrate my special day with me, my Mom surprised me with Rockets themed cake (my favorite basketball team).
Sunday I had a game with my Innerman Rebels travel team, and during that game I got the best birthday present, an incredible basketball play! Imagine a crazy crossover and buzzer beater that went viral on social media with over 40,000 views!
Now, I'm playing soccer on the Varsity Team for Norcross High School, I recommend to any exchange student to try out for the sport that they enjoy. As part of the team, I travel around the county playing against other High Schools and the most important thing, I am having fun.
Sports alone will not make your year in United States incredible, there were lots of activities that my school organized and I was able to participate.
One of the big events was the Homecoming Dance, an event that is a rite of passage for high school students in the United States – I got to experience that with my date Leah, my sister Nyasia and my new friends! My family traveled a lot, we went to Jekyll Island on the coast of Georgia, to Pigeon Forge in Tennessee that trip was my favorite one, and finally we went to Hilton Head South Carolina for Thanksgiving.
These past 6 months here in Norcross have been amazing, I've discovered a new world that has changed since that Saturday I landed at the airport. A new family, friends, food, and thousands of new experiences that together made an incredible experience for me. My time isn't finished as yet, I still have things to do – more travel basketball, Spring Break, trips with my soccer team, when someone asks, "Where in the world is Guillem?" The answer could depend on what my Mom says – she lets us go everywhere! Guillem
ICES student from Spain living with the Beckles family in Norcross, Georgia