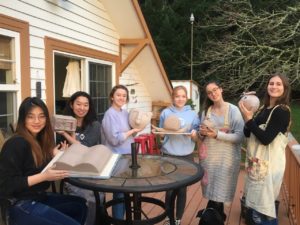 6 ICES students are taking part in an international art project
The Hokkaido Pottery Society invited the Oregon Potters Association to join them in a collaborative art project involving youth. Students in grades 3-12 in Hokkaido and in the Pacific Northwest are creating ceramic sculptures that will be used to create 50 "Peace Poles" to be exhibited at the Sapporo Museum of Contemporary Art and the Oregon Convention Center. The theme of this project is Youth Interpret Their Worlds.
Hyeil, Blanca, Elisa, Sara, Yeeun and host sister Lannie Hampton created art pieces with clay artist Brenda Scott in her Boring, OR studio. Their pieces will be fired in a wood kiln, assembled and put on display at the annual Ceramic Showcase April 27, 28 and 29 at the Oregon Convention Center.
500 youth from all over the Northwest USA are participating, being taught by a large group of OPA members. Each pole will have from 6-8 elements. At Ceramic Showcase 8 will be chosen by a jury to be shipped to Japan for the Hokkaido Pottery Society's 50th Anniversary Show.