The Eclipse, Kearlsley, Michigan, January 8, 2018
by Jenna Robinson / Managing Editor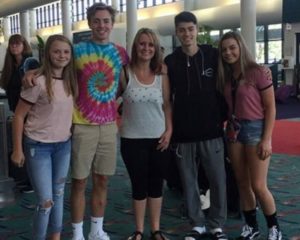 Brazilian foreign exchange student Carlos Macedo arrived in the United States in August, seeking an exciting insight into the American way of life.
"I came to America because I wanted to have different experiences from the ones I am used to having back in Brazil," Macedo said.
Macedo is staying with a host family and will be in America for 10 months. Macedo's host family includes Mrs. Shannon Conner and host siblings Joshua, Maeleah, and Brookelynn Conner.
While here, Macedo hopes to learn new skills, and improve his old ones as well.
"I want to improve my English and learn how to be more independent," Macedo said.
Macedo lived in Rio de Janeiro with his dad, Mr. Carlos Eduardo Macedo, his mom, Mrs. Virginia Macedo, and his sister, Maria Eduarda.
Macedo is classified as a senior here at KHS.
Back in Brazil, Macedo said the schools are different than in America but friends remain the same.
"The schools I know (in Brazil) are way smaller than the schools here," Macedo said. "Also, in Brazil we don't have this amount of sports or activities that we can join at school, nor (do we have) this school spirit. I am pretty sure that friends are the same all around the world."
Macedo is fond of Brazil. He said the people who live in Brazil are caring and helpful.
"I would say that Brazil is an amazing country with amazing people," Macedo said. "Despite having their own problems, I think Brazilian people will always be there to help you."
In Rio de Janeiro, the weather is usually warm. Macedo said that Brazil is "the place of beautiful beaches."
Many of Macedo's extracurricular activities in Brazil are similar to the ones he participates in here in America.
"With my free time in Brazil, I used to play soccer, video games, or hang out with friends," Macedo said. "So yeah, it's basically the same things I do here."
Some things in America strike Macedo as strange, such as how Americans eat breakfast foods for dinner.
In addition, since the legal driving age in Brazil is 18, Macedo finds it shocking that his peers here can drive at 16.
People at KHS have been welcoming to Macedo, and he's thankful for their friendship.
"(I have become friends with) some of the kids on the soccer team, and the ones I have lunch with," Macedo said.