Exchange students find homes
The Journal Gazette, Fort Wayne, Indiana, September 03, 2018
by Chloe Cameron / author
Local coordinator had life changed after becoming host family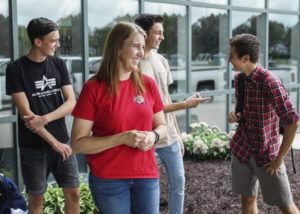 Like most other people, Jill Bonin used to look at a map and simply see the names of countries. That changed when she hosted her first exchange student.
Looking at a map, Bonin now sees faces – the youth she has met from various countries through her work with exchange students.
"Countries aren't just a place on the map anymore," Bonin said. The nonprofit International Cultural Exchange Services in July announced that Bonin would be the new local coordinator for the Fort Wayne area.
Bonin hosted her first high school exchange student 15 years ago. She and her family are hosting their 13th student this year. Bonin can now put faces to Korea, Spain, Norway, Brazil, Germany, the Czech Republic, Slovakia, and Ecuador.
Bonin considers those students family, although she has four of her own children still in school. Being a host family has changed their lives.
Now, when her children see international news, they wonder what one of their previous host siblings is feeling.
Her college-age son had a resident assistant and guessed he was from Ecuador after seeing his name.
The hosting experience inspired Bonin to begin working in the cultural exchange industry nine years ago with International Student Exchange. The organization's work is similar to International Cultural Exchange Services.
With Student Exchange, Bonin worked as a local coordinator for a year and was then a regional adviser for eight years.
International Cultural Exchange Services founder John Crist has also been on the board of directors of the Council on Standards for International Education Travel.
When an opportunity arose, Bonin moved from Student Exchange to Exchange Services.
Bonin said working with Exchange Services employees is enjoyable because of the team atmosphere.
"They're in it for the right reasons," Bonin said.
Tiffany Adams, a regional director for Exchange Services, said the employees are committed to ensuring students have good host families.
Adams said Bonin is a good fit because "she has a passion for kids."
Bonin loves spending time with so many high school students. She is able to interact with families and attend school events. In addition, she is able to continue learning about cultures around the world.
So far this year, Bonin has matched nine international students with families in the area. She also oversees nearly 30 matches.
It can be difficult when students are struggling with their host families, schools, or homesickness, but those cases are rare.
Bonin hopes she can connect as many families and host students as possible because of the opportunity to learn about other cultures.