The Eclipse, Kearlsley, Michigan, January 30, 2018
by Hannah Hendley / Photo Editor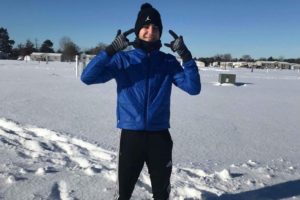 Ricardo Di Giovanni is a 17-year-old senior who enjoys spending his time playing sports and hanging out with friends.
What some may not know about Di Giovanni is he is actually one of the foreign exchange students attending KHS.
Di Giovanni is from Cinisello Balsamo, Milan, a comune of Italy. A comune is similar to a township.
In Milan, Di Giovanni lives with his parents and his older brother.
He said the city life here in the United States is a little bit different compared to back home.
"People usually live in apartments (in Italy), and the spaces between house or stores are smaller," Di Giovanni said.
He explained that what we would consider one block here of houses and stores could equal three blocks in Italy.
Di Giovanni also said the school systems are much different.
"Here the life of a student is around the school (with) sports, extracurricular activities," Di Giovanni said. "While in Italy the school is just for instruction."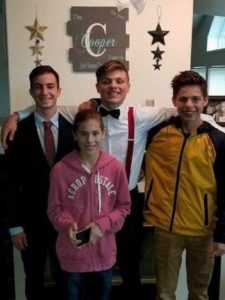 This is the first time Di Giovanni has came to the United States. He said he wanted to come to America to improve his English.
He is currently staying with the Cooper family in Flint.
The Cooper family consists of his host parents, Mrs. Neena Cooper, Mr. Josh Cooper, and their three children — Conner, Cy, and Cayley — two dogs, and two cats.
Di Giovanni described himself as a determined, ambitious, and kind athlete. Based on my meeting him, I can agree. He came off as soft spoken and a very polite friend.
While he enjoys spending time with friends like sophomore Isaiah Constant, Di Giovanni also likes to play sports.
In the fall season, Di Giovanni joined the soccer team.
Joining the soccer team helped him make friends before the school year started.
"Back home I play basketball," Di Giovanni said. "And now I am doing powerlifting. Maybe in the spring I will do track and field."
Constant said Di Giovanni is one of his best friend at school.
"He teaches me something new everyday," Constant said. "He's a really good friend."
Constant and Di Giovanni spend time together any chance they get.
"We talk a lot in Italian," Constant said. "And that's what I would say is more unique about our friendship."
When it came to graduation, he was a bit confused. In the United States, Di Giovanni is technically a senior, but in Italy he is still a junior.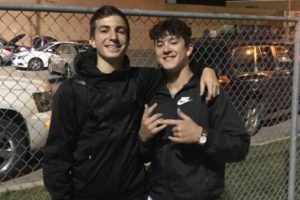 "I'm graduating with the Senior Class this year," Di Giovanni said. "I won't receive the same diploma every senior will, but I'll receive a diploma that will allow me to go to college both in the U.S. and in Italy."
In order for Di Giovanni to go to college in Italy he needs to graduate there also.
For Di Giovanni's future, at the moment he plans on staying in Italy for college.
"I will go to do something, kind of, in engineering," he said. "But I'm not so sure about which branch."
But Di Giovanni is also thinking about coming back to the states to receive a master's degree.
What surprised Di Giovanni about the United States were things like drive-through pharmacies, teachers dressing casually, and large cars.
"We don't have as big (of) cars as here because our roads are smaller," Di Giovanni said.