International feel: exchange students make impact
Players from other countries bring their skills to the Thumb
Huron Daily Tribune, Michigan, October 13, 2018
by Mike Gallagher / Tribune Sports Writer
UPPER THUMB — Soccer is known as the world's game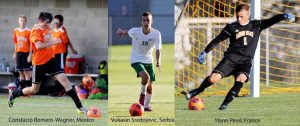 This year, Greater Thumb Conference soccer has taken on a international feel, with foreign exchange students making their presence felt.
Constancio Romero-Wagner, of Mexico and Ylann Pinel, of France have been key players for Harbor Beach, while Vukasin Sredojevic, of Serbia, has been a big goal scorer for Elkton-Pigeon-Bay Port.
Romero-Wagner plays in the field for Harbor Beach, while Plann has become the Pirates starting goal keeper.
"Cons (Constancio) has been a good addition because it gives us an extra attacking player," said Harbor Beach head coach Brian Fuller. "He's been dangerous for us. Then with Ylann in goal, he's been a real steadying force for us. That allows us to play with confidence through the back. He's made some great saves and he's a weapon, just being able to hit balls out of the back."
So far this season, Pinel has had seven shutouts in net, while Romero-Wagner has two assists, and the decisive goal in the Pirates' 1-0 victory over rival Bad Axe.
"My favorite part about playing for Harbor Beach is to be able to help the team win," Pinel said. "I like school and soccer, and I like to be with my friends. I've been playing for 10 years, my whole family plays soccer and I have worked a lot to get here.
For Romero-Wagner, it's about the brotherhood he sees on the field, and the friendliness he sees around town.
"The best part about playing with Harbor Beach is like here is a family," Romero-Wagner said. "If someone is doing bad another teammate is supporting him."
He added: "My favorite part is playing soccer. One of the things that I am impressed with up here are the people that are so kind. If you need help, you'll get help."
Pinel and Romero-Wagner have affected the Pirates soccer team in other ways other than just scoring goals, and making saves, as they have also made their teammates better.
"Both of them come to us with a lot of soccer skills, technical skills, knowledge of the game," Fuller said. "They have a lot more interest in watching games. Their calmness on the ball helps us, their technical abilities help us because our players then get to play with someone with has those technical abilities. It just has an impact on how they play, when you see somebody else able to play."
That has also helped the younger players in the program.
"Our goaltenders that are younger and are coming up, they're getting a chance to see someone who has some better technical skills," Fuller said. "For our younger players, they can watch Cons and some of the things that he is able to do with the ball, not only dribbling, but putting a little bit of spin on the ball. Things that a lot of our kids have not spent enough time on the ball to be able to mess around and do, so they've been great additions."
For EPBP, Sredojevic has brought a lot of different things to the Lakers team, not just his goal scoring ability.
"Something we have been stressing for years is just playing more possession," said EPBP head coach Chad Craig. "A player like him comes in and he has such a good understanding of the game, and he's got great skill, but it's the mental aspect that he brings of understanding how to possess the ball. He's very good, he can beat people one-on-one, but the biggest thing he's added is just that mentality of finding possession passes, keeping possession passes, moving into space and getting open."
Sredojevic has been playing soccer since he was four-years-old and decided to come to the United States as a foreign exchange student for a simple reason.
"They have so much more opportunities than in my country," Sredojevic said. "I'm planning to study here, go to college here."
Similar to Pinel and Romero-Wagner, Sredojevic has been impressed by the community and his teammates.
"It's really good here," Sredojevic said. "The people are nice. The coaches are really good. I want to thank my teammates for being really respectful. They are good people and they are helping me with the language and anything else that I need."
Sredojevic's best performance came against Saginaw Arts and Sciences, EPBP's first round district opponent next week, where he scored three goals, in the Lakers 8-0 victory.
"That felt really good," Sredojevic said. "When you go across the ocean and score a bunch of goals, it's a pretty good feeling."
Added Craig of the performance: "He's got a rocket shot, so if we get him the ball close to the 18, he's very good at finishing. He has a very powerful shot and he's accurate with it. In that game he was just on. His shot was on, he got some open looks and was able to dribble around some people."
Being a foreign exchange student can be hard at times, but playing soccer and being around the Harbor Beach and EPBP programs, have helped Romero-Wagner, Pinel and Sredjovic.
Making things easier is not only their abilities on the pitch, but the humor that the trio display.
"It's been really good," Craig said. "We do team dinners where we're hanging out with the team and his English is very good, so that helps just to build relationships. It's fun because you understand that he knows what you're talking about when you are coaching him and then when he starts cracking jokes you really know that he's feeling like he is a part of the team."
"They're both funny kids, so they've added a little bit of a different sense of humor," Fuller said. "A lot of our kids are cousins, their families all know each other, their parents went to school together, so being able to get a couple kids from outside the area has added a little bit of spice."