Long Beach exchange student falls in love with U.S.A
Long Beach Breeze, Mississippi, May 21, 2018
by Fred Weller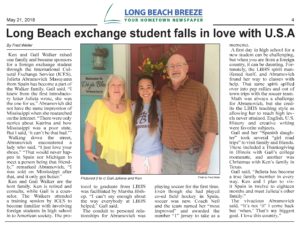 Ken and Gail Walker raised one family and became sponsors for a foreign exchange student through the International Cultural Exchange Service (ICES). Julieta Abramovich Masuyama from Spain has become a part of the Walker family. Gail said, "I knew from the first introductory letter Julieta wrote, she was the one for us." Abramovich did not have the same impression of Mississippi when she researched on the internet. "There were only stories about Katrina and how Mississippi was a poor state. But I said, 'it can't be that bad." Walking down the street, Abramovich encountered a lady who said, "I just love your shoes." "That would never happen in Spain nor Michigan to meet a person being that friendly," remarked Abramovich, "I was sold on Mississippi after that, and it only got better."
Ken and Gail Walker are the host family. Ken is retired and consults, while Gail is a counselor. The Walkers attended a training session by ICES to become familiar with involving foreign students in high school in to American society. The protocol to graduate from LBHS was facilitated by Marsha Bishop. "I can't say enough about the way everybody at LBHS helped," Gail said.
The conduit to personal relationships for Abramovich was playing soccer for the first time. Even though she had played co-ed field hockey in Spain, soccer was new. Coach Neil and the team named her "most improved" and awarded the number "1" jersey to take as a memento.
A first day in high school for a new student can be challenging, but when you are from a foreign country, it can be daunting. Fortunately, the LBHS spirit manifested itself, and Abramovich found her way to classes with help. That same spirit spilled over into pep rallies and out of town trips with the soccer team.
Math was always a challenge for Abramovich, but she credits the LBHS teaching style as allowing her to reach high levels never attained. English, U.S. History and creative writing were favorite subjects.
Gail and her "Spanish daughter" took several "girl road trips" to visit family and friends. These included a Thanksgiving in Illinois with Gail's college roommate, and another was Christmas with Ken's family in Texas.
Gail said, "Julieta has become a true family member in every way. Ken and I plan to visit Spain in twelve to eighteen months and meet Julieta's other family."
The vivacious Abramovich said, "It's not 'if' I come back but 'when.' That's my biggest goal. I love this country."