Matias Garcia: Owasso Area Spotlight
VYPE Oklahoma, October 15, 2018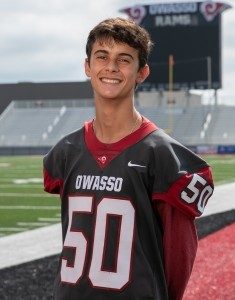 Most students don't leave home for an extended period of time until they graduate high school. And even then, it may be an hour or two away. Very few travel 4,755 miles over the Atlantic ocean to spend 10 months away from their home. That's exactly what exchange student-athlete Matias Garcia is doing this year.
Not only is the young man spending 10 months in the United States, he's attending Owasso High School and playing football for the Rams.
The exchange program is not a short process, but Gracia and his family found one that works and gives the student an opportunity to get to know the host family before they arrive.
"In the exchange program, you have to do a lot of things, but basically you have to choose one organization, mine is called ICES and it is the best one. Then you have to do a lot of paperwork and when you finish you have to send it to your organization and then they send it to the coordinators in U.S. After they check that all is correct, they give our profiles to the host families and finally the families choose a student that they feel will be a great addition to their family," said Garcia.
"After you are matched to a family you start communicating with them through email and face time and begin to build a relationship before you arrive. After you arrive you are supported by a local coordinator that helps you and your host family during the 10 months that you are here with them. There are a lot of amazing things that come from this experience like learning about a totally different culture, experiencing life as an American high school student, making lifelong friendships and gaining a second family. I would recommend everyone to do one exchange year. For me it's been the experience of my life. It's not a year of your life, it is one life in one year."
The Madrid, Spain native has taken to life in America and is sharing his culture with his friends. Folding himself into life as an American high school student-athlete was easy thanks to encouragement he received from his family.
"Well, a lot of people thought that I wasn't familiar with football, but the truth is that I was more interested than they thought. I started watching it when my brother was in Seattle and the Seahawks won the Super Bowl. I didn't decide on my own, my brother was every day trying to convince me to play it, but not only my brother, my dad was also recommending me to play it," said Garcia. "The thing that I most like about football is the team. When I say the team, I am referring to all my teammates, the coaches, and everyone involved with Owasso Rams football. I just don't feel like they are my teammates, what I really feel is a family, everyone tries to help the one next to them, and they don't try to be better than other teammates they just want to outdo themselves and help the teammates. So, the only way to define this team is with the word FAMILY!"
Owasso head coach Bill Blankenship said Matias is one of the most fun players to have around and the team absolutely loves him.
"Coach B is the best head coach I've ever had. He cares about everyone on the team and if you have a bad day he always makes it good one way or another. I've been here for only a month and a half and I've never seen such great motivational talks in my life. For me, he's not only a coach I consider him as a second father," said Garcia.
Oklaho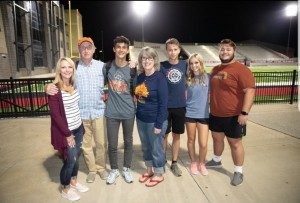 ma has left an impression on Garcia. When he returns to Madrid in June or July of 2019, Garcia will take with him a piece of the Sooner state back to Spain with him. What will he tell his family and friends when he returns?
"I tell them that I love Oklahoma, I love the people, I love football, I love everything. I recommend them to come to the U.S. because its been the experience of my life," said Garcia.