Thankful for exchange program
Pine Journal, Duluth, Minnesota, June 20, 2018
by Julia Elias Vilanova / ICES exchange student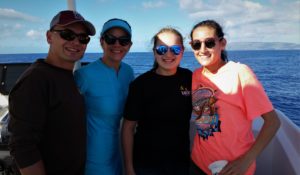 I am writing a thank-you letter to thank everyone who made this year the best year of my life. I am so thankful I had the opportunity for the exchange program.
First, I want to thank all the people who work with International Cultural Exchange Services (ICES) to make this experience happen and take care of me. I am so happy with the ICES service and I recommend it to everyone who wants to do an exchange program.
Second, I want to thank my school for how they treated me. All the teachers have been awesome and I have loved the education program.
Thank you to Mrs. Waha for teaching me so much. Now, because of U.S. History, I understand better why the country and its citizens are the way they are.
Thank you to all the people who made the swim team happen. I had so much fun and the experience of going to state was awesome.
Thank you to Mr. Maijala, who helped with the Nordic skiing team. I had so much fun.
Thank you to Mr. Prosen for treating me so well, and I am so glad I was on the track team.
Also, thank you to Mr. Jirschele for making the band program happen for me.
Third, I want to say thank you to all my teammates. They have treated me very well and it has been so fun.
Thank you to all my classmates, for being respectful and fun.
Thank you to my friends. Thank you Cassie, Savannah, Aurora and others for being my friends during this year. I know life will bring you really good things. I hope we never end this relationship and I hope I see you again.
Finally, I want to thank my host family: April, Halle and Jason Stowe. I don't have words to describe how much they mean to me. I can't believe how fast the year has passed by. It's going to be so hard to have to leave. Now I have a second family, and I know this relationship will last forever. They are part of my family and they will always have a special place in my heart.
Thank you for making all these good memories with me that I will never forget. I will always be thankful for all you have done for me over the year. I still can't believe how lucky I was by having you as a family.
My best part of the program has been my family for sure. I will never forget all the laughs and everything you have taught me. I know this is not a goodbye — it's a "See you later."
Thank you,
Julia Elias Vilanova
Cloquet, Minnesota