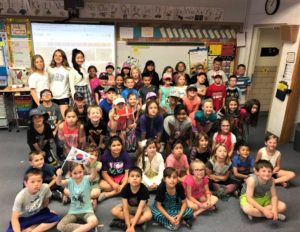 Travels Around the World
On Thursday, the First Graders of Burlington Elementary School had the amazing opportunity of traveling around the world through the experiences of three high school exchange students. Minji from South Korea, Lisa from Denmark, and Cecilia from Brazil, broadened the world for the first graders as they learned about the countries and cultures of these ladies.
First off, the kids jumped on the airplane and traveled to South Korea with our travel guide, Minji. Minji started by sharing where exactly South Korea is and how far it is from Burlington, CO. The kids were surprised when Minji shared about her home city of Seoul which does not have houses, but only tall skyscrapers. In addition to learning about the city, the kids learned about traditional Korean dress. They thought that it was beautiful. After learning how to say good-bye in Korean, the class jumped on the airplane again and flew to Brazil.
In Brazil, Cecilia taught the kids about some of the many riches of Brazilian culture. Cecilia started with the Brazilian cuisine of beans. The students learned that beans are a staple of the Brazilian diet. Carnival became the next stop of the tour that Cecilia took the kids on. In Brazil, Carnival is celebrated by kids dressing up, similar to Halloween. The kids greatly enjoyed seeing Samba, traditional Brazilian dance. Cecilia encouraged the kids to experience the dance by standing up and trying it out. To end the tour of Brazil, Cecilia broadened the kids' view of the world by introducing them to Portuguese, the national language of Brazil. The similarities of Portuguese and Spanish surprised the First Graders.
With the sound of Portuguese still in their heads, the First Grade Class flew to the European country of Denmark, where Lisa was waiting for them. To start the tour, Lisa showed the many contributions that Denmark has made to the world. The kids discovered that Legos, The Little Mermaid, Vikings, and delicious Danishes all originated in Denmark. Lisa then explained the difference between how the Danes celebrate Christmas and how Christmas is celebrated here. The kids thought it was interesting that in Denmark presents are opened on Christmas Eve and that families dance through the house and around the Christmas Tree to celebrate. The kids also humorously tried, with varying levels of success, to say some famous dishes in Danish.
With much enjoyment, the students concluded their travels around the world by hearing the differences in the three languages as the ladies translated words. First Grade heard how to count to 10, I love you, and how are you, in Korean, Portuguese, and in Danish. This was definitely one of the kids' favorite parts.
After traveling around and learning so much, the kids said a happy fair well to their three tour guides.
Megan Stoneman
teacher 1st grade class
Burlington Elementary School, Colorado