ICES Exchange Students are popular at Kindergarten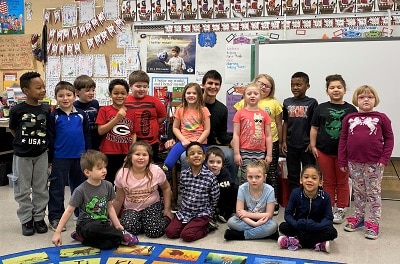 Lorenzo was able to come to my Kindergarten classroom during Read Across America Week. I chose a group of books that I thought my class would enjoy. Lorenzo looked them over and picked two.
He then practiced reading them the week before he read to my class. He was interactive with the students from the moment he walked in the door. He introduced himself and asked all the kids what their names were. When he read the stories he did so with enthusiasm and the kids were giggling. They loved it. The 2nd book he read was interactive and he encouraged the kids to chant the saying with him.
Lorenzo was given this opportunity by his Senior English teacher Kelly Sandy.
Amy Canterino
host mom and kindergarten teacher
living in Girard, Ohio