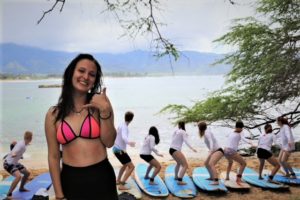 Aloha from Hawaii!
A few weeks ago, I, Annika, packed my suitcase and flew from Las Vegas to Honolulu, Hawaii. I flew alone, but as soon as I arrived, I made new friends with all the other exchange students in my Hawaii trip.
The first thing you hear when you arrive is' "Aloha!", doesn't that sound like a dream coming true? We were about 60 exchange students, from all around the world, all going through the same things, and all super excited to finally relax on the beautiful beach in Hawaii.
BeloUSA works with ICES together, and they offer a bunch of different trips. If you want to know more you can just ask your Local Coordinator, they'll give you more information!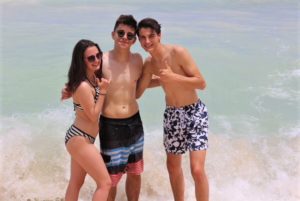 The whole week was just for real the best in my entire life. It was the highlight of my exchange year. I can't even explain how magical and wonderful it was! Especially with all the different things we did, like surfing, snorkeling, hiking, kayaking, and even more fun activities, the whole trip was super exciting!
My favorite was definitely kayaking, because we basically paddled out to our own private island! It was unbelievably beautiful. The water in Hawaii is crystal clear, you see everything below you, and if you're lucky, you might even see sea turtles! I also saw a few whales on my trip, which was definitely one of the top things on my bucket list!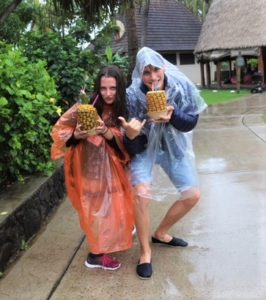 What I really liked, was that you can actually dive into the Hawaiian culture, and even if you don't know much about it, you'll fall in love with it. The people there will you treat you like you're a part of it, and you are. I can say that every single person on my trip didn't wanna go back. Hawaii just makes you happy, there's no other way to describe it.
We had a lot of free time and beach days, where we could just explore the city on our own, or lay on the most beautiful beach in the world. And yes, we went to the #1 most beautiful beach in the world! At least that's what our tour guides told us, but it really was unbelievably beautiful.
Hawaii in general is just breathtaking, believe me. You are literally in paradise. Imagine living on an island with crystal clear blue water, a super clean beach, all the people are generally nice to you, and you can just relax, relax and relax. That's what is was like being in Hawaii. I also want to thank the tour guides, because they were just so cool and open minded with us. I definitely became friends with them, too.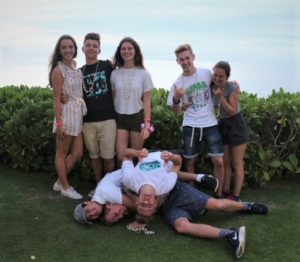 But despite all the amazing things we did, the people I was with made it even more special. The difference with exchange student is, that you understand each other. No matter where you're from, you're all going through the same things. You know what it's like being away from home, and it feels good to have someone like yourself around you. I personally love exchange students more than any other people. They are just so adventurous, risk taking, and you get along with them so well in only 0.2 seconds. Also, you make new friends all around the world, and that's what I did, too. We all became super close in only a day, so you can imagine how fun the trip was for us. Right after we left, we face timed every day, which we now still do! I remember that our tour guide told us that at the end of the week, we'll all be an Ohana. Ohana means Family. And I can proudly say that we are. I miss them every day, even though I just met them 3 weeks ago. It's crazy how Hawaii connected us. We even arranged our own get-together in Germany, so everyone from all around the world is gonna fly there so we can finally see each other again. So yes, I loved Hawaii more than anything.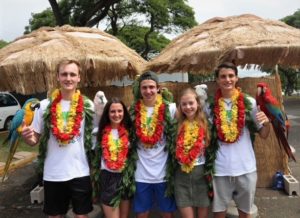 I missed my prom because of this trip, but I can tell you that it was definitely worth it! It was for real the best experience in my entire life, and I hope that some of you will do the trip as well. I promise you, that only a week can change you so much, to the better of course. And I know that you'll never forget this trip full of adventures, and most importantly, love.
Annika 🇦🇹
exchange student from Austria
living with the Urbach family in Henderson, Nevada