An unforgettable art competition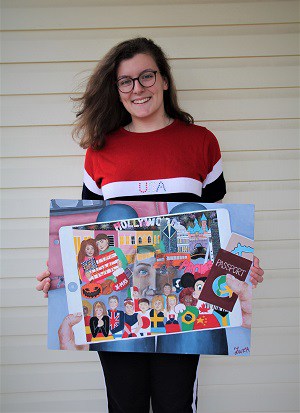 I love art. And that means that when my coordinator told me that I can join one of the art competitions, I did not even think about it and I decided to join it. After I read the rules, I drew some sketches and talked with my art teacher about my plan. She really liked it. I wanted to capture my memories and experiences what I experienced during the year, and also capture my actual reaction. I did not know how to do that at first, but my amazing art teacher, who I have a perfect relationship with had a brilliant idea. I decided to paint a tablet in my hands, all the memories in and my actual reaction when I am looking at that.
You can see how I am sitting on the plane with my suitcase in the left corner, plane tickets and passport on my hand, and watching my memories in the tablet. I tried to capture all traveling experiences in the right corner of my tablet. As you can see, there is a Hollywood sign, famous New York and Chicago buildings and also Disney land and Californian bridge. I also painted downtown, typical school bus, Prom sign, and traditions like Christmas, Thanksgiving, and for example Halloween.
In a big part of the project are different races of people, with different beliefs, dressed up in specific flags from all over the world. I tried to show you that we are like one big family, no matter where are you from, what belief, or what skin color you have.
The very important part is my host family as well, which make my dreams come true and let me spend my exchange year with them.
One of the most important parts is the emotion. How I mentioned in the beginning, my teacher had an idea of showing this emotion on the screen of the tablet. You can see that I am crying, but smiling at the same time. The tears are happy tears. I am so glad that I had the opportunity to spend a year as a foreign exchange student in The United States. I had such an amazing time. I met so many wonderful people who are gonna stay in my heart forever. I made the best friends, and I had the best host family what I could ask for. Maybe I will forget that someone gave me some material things, but I will never forget those people, experiences and amazing memories. That is the reason for my smile and tears.
Unfortunately, I did not win this competition, but I am still glad that I participated. Because this project will stay in my amazing high school in America as a memory of me, and a remembrance that other foreigners can have an unforgettable year if they want as well. It was such an amazing year what I will never forget. The very last thing what I can say is only, THANK YOU.
Zuzana, exchange student from Slovakia
living with the Cornell family in Flushing, Michigan
Learn more about becoming an ICES Exchange Student and Study in the USA