Brazilian exchange student finds second family in Rigby
Post Register, Idaho Falls, Idaho, February 24, 2020
by Brennen Kauffman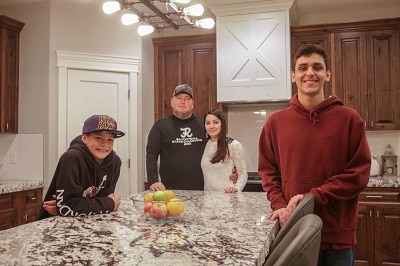 Moving to another hemisphere, from tropical South America to often-chilly Idaho, wasn't the biggest adjustment Lucca Silva faced when he started at Rigby High School. He encountered an unfamiliar culture and would live with a new family during his year abroad.
The 18-year-old came from Espirito Santo, a state on Brazil's Atlantic coast just north of Rio de Janeiro that was about a quarter of Idaho's size but had twice the population. He lived in an apartment with his father and younger brother.
Silva had visited the United States twice before, once to see his uncle in New York City and once with friends to visit Disney World in Florida. His third visit would last for nearly a full year as he lived with his host family as an exchange student in eastern Idaho.
"I knew it was a state but not much else about it. I heard there were a lot of mountains there, and it was in the north, so it would be cold," Silva said.
Silva and his parents, who are divorced, had both written letters for him to participate in the International Cultural Exchange Services program, explaining what they were interested in and what they hoped Silva would get out of coming to America. His letter mentioned his interest in basketball and other sports along with an interest in improving his English.
His host family is Holly and Nick Peterson, who live with their 12-year-old son Duenes just north of town. The couple had seen a mention of the exchange program on Facebook over the summer. Nick's grandparents had hosted a student from Finland when he was younger and both of them were interested in trying the experience for themselves.
"He's been exactly what we had expected and hoped for. It's been really great to have him and accept him as part of our family," Holly said.
Silva is one of more than a dozen international students at Rigby High School this year, which counselor Mekayla Bishop said was a higher number than normal for the school. This is Bishop's second year helping run the high school program and working with the exchange students.
"Living in rural Idaho, sometimes we are limited on our experiences and interactions with other people. Bringing those students in and (getting) exposed to some of their culture and life helps to educate our students and staff on other countries," Bishop said.
Bishop and Principal Brian Lords met with the incoming students before the school year started to help them figure out classes and adjust to a new system of education. At Silva's school in Brazil, the students stayed in the same room while different teachers rotated through. It also had a longer day, fewer extracurricular activities and almost no school sports.
Before Silva began making good friends with the students from Idaho, he was hanging out with the students from Poland and Spain. Soon he and the other exchange students had gotten to know the Rigby locals.
"I'm a lot better now at meeting new people and have more friends from Idaho. I have a few friends that want to come down to Brazil to visit me," Silva said.
The family took him to every football game for the Rigby High team and Silva rooted for them on their way to the state championship. They took him to two Utah Jazz games this winter, where he got a signed jersey from star player Damian Lillard.
An avid hunter, Nick took Silva into the woods a few times in the fall. Silva learned to shoot a bow and the names of the animals they were hunting; Brazilian Portuguese doesn't have different words for elk, moose and other deer species because there are almost no antlered animals in the country.
During the year he kept in touch with his friends and family at home using video calls and WhatsApp messages. The Petersons also keep in touch with the Silvas through email.
"He is part of our family now and we want his family to be part of our family too," Holly said.
Silva and the Petersons plan to still make it to Yellowstone and the Grand Tetons before he returns to Brazil in June. After he gets back, Silva plans to eventually attend a nearby college to study business. The flipped seasons — June to September is winter in Brazil — mean that college won't start until February, though, so he'll have time to make his final decision.
For questions about hosting an exchange student during the next school year, contact regional coordinator for International Cultural Exchange Services, Amanda Torgerson at atorg[email protected]