Exchange student making immediate impact on Molalla volleyball program
Molalla Pioneer, Oregon, September 23, 2019
by Derek Wiley / author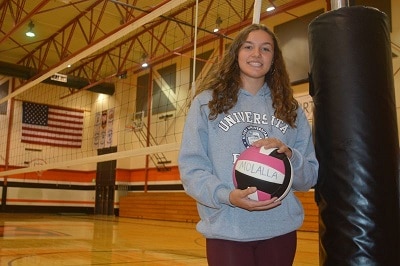 In her first high school start, Romero, from Spain, led the Indians with 10 kills, two blocks and two digs.
Paula Romero's first day at Molalla High School was scary, and not just because she was more than 5,000 miles from home.
A few minutes before the first bell, another student pulled the fire alarm.
"I was kind of lost, and I didn't know what was happening," recalls Romero, a foreign exchange student from Spain. "One of the girls, Lanie (Mead), on the (volleyball) team grabbed me."
A couple of weeks later, Romero has settled down.
Playing on the volleyball team has given her instant friends.
"Everyone told me to join a sport because it's going to make everything easier," Romero says, sitting with Molalla teammate Jazmin Spinney, who is helping her through her first interview with an American newspaper. "Here, sports are of much more importance than they are in Spain. Thanks to volleyball I have friends. Everybody on the team has been really nice to me. All my teammates are lovely girls."
Romero, 16, is from TorrejÓn de Ardoz, a city of nearly 130,000 people, located 20 kilometers east of Spain's capital, Madrid.
Her mom coaches volleyball in nearby Ajalvir, so Romero has been around the sport all of her life, and played since she was 5.
Romero, a middle blocker, joined a more competitive team in TorrejÓn de Ardoz last year and this summer played in an international tournament in Portugal against clubs from all over Europe and South America.
But playing for Molalla has been an even bigger joy.
"I love playing here," Romero says. "It's the most fun matches I've been in with all the people cheering. The energy is really good here. They cheer and shout a lot."
Romero arrived in Portland on Aug. 20, just in time for the last two days of Molalla's tryouts.
She was a pleasant surprise for an Indians team that graduated 10 seniors.
"Kudos to her for just literally walking in the gym and just starting to play with girls she's never met," Molalla coach Lauree Nelzen says. "She doesn't know me. She did great. She's an all-around good athlete. She was very personable, even from the get-go. She seemed very comfortable. It's been fun to have her. I hadn't really planned on getting another middle, and another middle like Paula."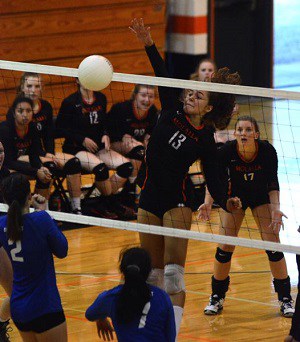 In her first high school start, Romero led the Indians with 10 kills, two blocks and two digs in a 3-1 win over Blanchet Catholic on Sept. 5.
"She made a big impact right away," Nelzen says. "She's quite a force in the middle. She can jump. She hits well. She reads the ball well. She can pass. She can jump serve. She's just stepped right in. The girls love her. They adore her and I think the feeling is mutual."
Volleyball is not Romero's main sport. In Spain, she trained in rhythmic gymnastics 16 hours a week.
"I'm not missing it that much," Romero says. "It was stress. When I come back (to Spain), I'll probably focus on volleyball."
Romero began learning English when she was 6, attending a bilingual school, where half of her classes were in Spanish and half in English.
She has previously studied abroad on one-week trips to Edinburgh, Scotland and Brighton, England.
But this is her first time in America.
Romero chose Oregon because she heard it was "safe," and there are not as many Spanish speakers or guns as a state like Texas.
Romero is staying with a host family that only speaks English. Her roommate, an exchange student from Switzerland, speaks English and Dutch.
"That's one of the main reasons my parents wanted me to come here," Romero says of working on her English.
"Coming here is how I'm going to really improve it."
After a school year in Molalla, Romero plans to go back to Spain for college, but she is enjoying America's education system.
"I like how your system of education is," Romero says. "I prefer that to the Spanish one. It's more easy. You have the chance to choose your electives."
Along with chemistry, English and psychology, Romero is also taking photography and video production classes.
"I have a YouTube channel, but it's in Spanish so don't look at it," Romero jokes. "I started a YouTube channel because I was coming here. My friends wanted to know everything. They wanted to know if the things that we see in movies are the same, so they want me to record everything."
Romero says she calls her family back home twice a week.
"I'm not really missing them, now, but once I get to the middle of the year, and Christmas, I'll probably miss them more," she says.
Romero is looking forward to American holidays like Halloween and Thanksgiving.
"My grandma makes turkey for Christmas," Romero says. "I don't like it. I will try it. It's probably different. My host dad cooks really good. The food is really good. I'd never had mac and cheese and it's really good, but I miss Spanish food. It's really good, too."
With Romero, Molalla's volleyball team has started the season 4-2.
"I just feel like our team was really blessed, not just because she's a great volleyball player, she's just been a great kid, fitting right in," Nelzen says. "She wants to be part of all of the stuff we're doing. It's just been a real blessing."