Exploring a new country
Estacada News, Oregon, Tuesday December 03, 2019
by Emily Lindstrand, author
Three Spanish exchange students are spending school year at Estacada High School through ICES program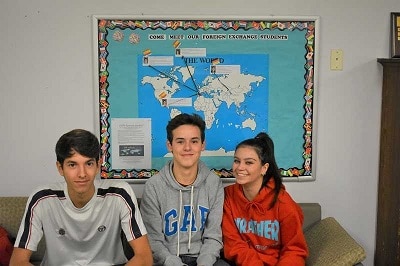 A group of Estacada High School students started the semester more than 5,000 miles from home.
Hugo Matarredona, Laura Cebrian and Santiago Portillo are three of this year's foreign exchange students at Estacada High School. They came to Oregon from Spain through the International Cultural Exchange Services program. Matarredona is from Alcoy Alicante, Cebrian is from Madrid and Portillo is from the Canary Islands.
All three were drawn to the United States as an opportunity to build on their English speaking and writing skills. Both Cebrian and Portillo have graduated from high school in Spain and are spending the year in Estacada before continuing their education at the university level.
"I decided to spend one year in a foreign country, learn English and decide what to study," said Portillo, who has a sister who is studying in Michigan.
"English is really good for working in Spain," Cebrian added.
The students stay with local host families and attend classes at Estacada High School. Though the first day of school was nerve-wracking for them, they've since acclimated.
"It was kind of cool. Everything was new, but at the same time I was scared of many things," Matarredona said. "People here are so nice. They help you a lot. I feel like I'm supported by people."
The three are involved in activities outside of the classroom as well. Portillo was a member of the high school's soccer team and plans to join the basketball team, and Matarredona was on the cross country team.
"It was the best decision I made all semester," Matarredona said. "It was a small team, and we had the chance to get to know each other well."
They noted that there are several differences in sports between Spain and the United States.
"Sports are much harder here than in Spain. Here, you're playing for a college scholarship," Portilllo said.
"In Spain, your grades are more important," Cebrian noted.
They also found several differences in the classroom.
"Here, the focus is all on homework. In Spain, it's all about the exams," Matarredona said.
"In Spain, they give you a book and you study it," Portillo said.
The students have appreciated making memories with their host families and friends they've met in school.
Cebrian has enjoyed spending time with her host sister and her friends, and Portillo said soccer practice is one of the most rewarding experiences.
Matarredona cited a trip to the Oregon Caves as his favorite memory in the U.S. so far.
"It was such a great way to get to know my host family," he said.
They said they were surprised when they realized how small their new city is.
"I looked it up, and it was so small. Only 3,000 people. (I thought) oh my, where am I going?" Matarredona recall-ed.
Since then, they've found many places in town where they enjoy spending time. Cebrian and Matarredona typically visit Lew's Drive-In every Wednesday afternoon.
"We like to pick out different things off the menu," Cebrian said.
"It's cool. I like it," Matarredona added.