Foreign exchange students help at homeless shelter
News Tribune, La Salle, Illinois, December 7, 2019
by Goldie Rapp, author
From high school with love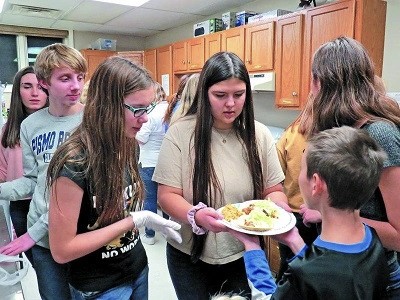 A group of five area foreign exchange students here in the U.S. through the International Cultural Exchange Services program gathered at Illinois Valley PADS homeless shelter this week to experience hands-on community service work.
The students brought with them siblings from their host families and one key ingredient for tacos, which is the meal they agreed to serve on a chilly December night to 25 individuals staying in the shelter.
With some guidance from local ICES coordinators Andrea Crew and Adeline Margis, the busy crew worked swiftly taking taco orders, hand-preparing each customized taco and serving the hot meal to the individuals.
The feedback they got? All smiles and plenty of warm "thank-yous."
Crew said she and Margis had been brainstorming ideas for a community service outreach for their students, and the idea to provide a meal at the homeless shelter was what they came up with. Plus, Peru was a good central location for them to meet. The students came from various areas in Putnam, Bureau and La Salle counties.
"I like to make sure people know these kids are not here just 'to get.' They're here to give, too. … This was a good opportunity for these students to see that not everyone in the States is as well-off," she said. "This is a good way for them to see America is very diverse, and we have people from all walks of life that come from different situations."