Exchange student making impact at Idalia
Colorado Preps Magazine, Fort Morgan, Colorado, January 2019
by Brock Laue / author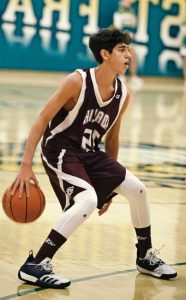 When Bru Carreras was roaming the halls for the first time at Idalia High School, coach Brad Wingfield didn't know yet the type of player who would be joining his basketball program.
"The word on the street and his bio indicated that he played a lot of basketball and he could certainly have an opportunity to be an asset," Wingfield said of his freshman point guard. "We didn't know that he was going to be as skilled as he is until literally the start of basketball season. It was pretty evident at that point that he was better than advertised."
For anyone adventurous enough to move to another country, finding a niche in the new community is essential. Partially through athletics, Carreras has found that at Idalia, joining both the football and the basketball teams.
A foreign exchange student from Spain, the winter season is when he really excels. In fact, he ranks 6th in scoring in Class 1A at the moment, racking up 19.6 points per game. The results have shown in the win column with already more victories (6-6 record) than the Wolves tallied all of last season (4-16). Carreras is anything but a typical newcomer.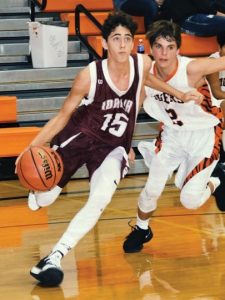 "Bru has a pretty fun skill set," Wingfield said excitedly. "He's played a lot of club ball in Spain and he has developed himself to be able to handle the ball at the point guard position really well and he can shoot well. He's one of the missing pieces that we've been needing, which is a ballhandler."
With Carreras in the fold, along with up-and-coming players like Caleb Wingfield (8.3 ppg), Dax Towns (7.3), and Yahir Enriquez (6.3), Idalia might be a threat to qualify for the state tournament. While it would be a tall task, the group has gelled and improved the past few months.
"The players didn't know each other, so we weren't a cohesive team," Carreras said. "By the end of December, we had a three-game winning streak. After break, we lost to teams we should have beat but we didn't move the ball like we should and we were static on the court. Now we are back in form."
It is all a process, a journey that is reminiscent of the twists and turns of life. Carreras, as the floor general and go-to scorer and playmaker for the Wolves, could act as a stabilizing force as the team looks to win more consistently.
"We've still been learning how to play," coach Wingfield said. "Anytime you insert new players in any system, it's a growing tree. We're still not winning at an incredible pace, but we're certainly playing better than we have in the past and a lot of that is attributed to being able to handle and move the ball."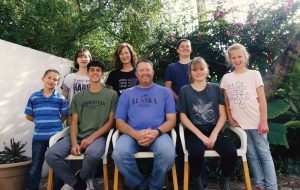 Carreras has already left an imprint on the Idalia program, but how did he end up in Yuma County in the first place?
"Chosen from over 200 boys, we selected Bru based on our confidence that he would fit well with our large family (we already have four kids)," Lynne Cody said. "Hosting a foreign exchange student can be a rewarding experience for both the student and the host family. We already have kids in high school sports, so our schedule wasn't significantly altered, but for those with younger kids, having a high school student can help build their involvement in the school community."
Lynne and Kane Cody, the host parents of Carreras, already had experience in the role.
"When the students leave, they truly are a member of the family," Lynne Cody said. "Our first exchange student has been gone for nearly two years and we are still close, having seen her several times since returning to her native Denmark."
Unfortunately for Idalia's opponents this season, Carreras will be seen and heard from many more times before he heads back to his home country at the completion of the school year. The five-foot-10 inch dynamo is contributing for the Wolves in every way with averages of 5.1 rebounds, 4.4 assists, and 2.6 steals per game. He has also finished with 20 or more points in six of the team's first 11 contests.
Carreras' skills can largely be attributed to his basketball roots in Spain.
"In Spain, we play in clubs and there are no sports in schools," he said. "Cities have multiple clubs where you play in a team based on age & skill. Those who are outstanding in their age group may even be invited to play with an older team. Clubs play nearly 12 months a year, while here the kids play multiple sports."
His basketball experience has set him apart this winter. Carreras isn't the team's only newcomer from Spain, but senior Jamie Rodriguez has a background in a different sport.
"He was a handball player in Spain, but he's very athletic and he brings some grit and some ballhandling ability to our team as well," Wingfield said.
With a few months of this season in the books, the Idalia coach found out what the arrivals would bring to their community.
"Both Bru and Jamie have been a joy for us to have here," he said. "They've really brought a smile to us. We have a great dynamic and that goes for the rest of the team as well. It's been fun to see parents come and fill the stands and travel well. It's great energy in the boys' program for the first time in quite some time."