Exchange students in central Indiana miss experiences due to virus restrictions
WISHTV.com, Indianapolis, Indiana, April 20, 2020
by Staff Reports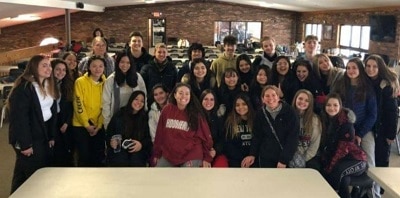 The impact of coronavirus restrictions has been tough on students in Indiana, but it's been especially tough on some of their classmates who are visiting America from other countries.
Students with J-1 visas for cultural and educational exchange opportunities are living with host families across central Indiana. About a month ago, they were going to school like any other student until Gov. Holcomb announced a mandatory shutdown of all schools to help slow the spread of the coronavirus.
That meant many of those students from abroad are stuck in the U.S., unable to take part in American school and life, and unable to go home.
"Even if school was done for her right now, she wouldn't be able to go home right now because the country is on lockdown," said Corey Plunkett, who works with a high school exchange business and is hosting Suparjirtra Doamsombun, a student from Thailand.
Doamsombun said she's now realizing what she'll miss out on during her junior year: "I think all foreign exchange students they hope to come to the prom, I think."
"That is one of the biggest goals of the exchange students," Plunkett said.
But the prom experience isn't the only thing students are losing.
Sandro Flores, an exchange student from Spain, was looking forward to playing golf on Avon High School's team. But now his dream of teeing off in America will have to wait.
"I knew I wasn't going to play a lot of golf this year. But now that it's canceled, it's pretty bad," Flores said.
Even with the sadness, students and host families remain hopeful that growth will happen through these tough times.
"They're definitely going to mature quicker than most. They're not getting that full experience. Life gave them a different aspect," Plunkett said.