Family hosts student from the Canary Islands
KAIT / Region 8 News, Jonesboro, Arkansas, January 16, 2020
by Jurnee Taylor /
A program in town is calling on you for help, asking you to open your doors and your hearts.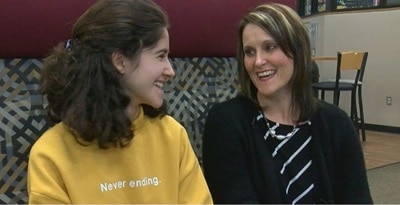 International Cultural Exchange Services is a program for foreign exchange students from over 20 countries in the world and one of those students are walking the halls of Jonesboro High School.
"I feel so good, I can be part of something here. It's not my family, but I can be part of it," exchange student Julia Corominas said.
Julia, 15, is over 4,000 miles from the Canary Islands, the place she calls home.
But, she's not on vacation.
She's now a member of the Smith family, attending school in Jonesboro.
"Hospitality is really good. I love it. People here are too nice," Corominas said.
And one of the first things she's fallen in love with is Southern hospitality.
However, on the other end, she hasn't quite come to terms with the weather.
"Here, it's too humid. Humidity is horrible," Corominas said.
Exchange students live as members of the host family and not as a guest. Students have their own money and full health insurance.
But, she looks to her host family for love and support.
Julia's host mother is Jennifer Smith, who so happens to also be a Spanish teacher at the high school. She says this experience for her has been a two-way street.
"She has already given us some food, some treats from Spain. She bought us a recipe book where we can make sauces," Smith said.
And even while learning Julia's culture, Smith says they've bonded in other ways.
"We've spent a lot of time talking. I surprised her that I like raga ton music. "Oh, yes I was shocked". We've shared music, singing and dancing," Smith said.
And although this time together will come to an end, Julia says her memories will never leave her.
"It's everything. This is an experience that you can not take back but still memories. I want to do new things, that's what I want to take back to Spain and tell my family and friends everything," Corominas said.
She will be with the Smith family until May. She plans to continue to learn about the culture as she teaches hers.
If you would like to host a student or even send your child to another country to learn about its culture and gain a new perspective, email [email protected] or contact the local coordinator, Irina Khramtsora at (870) 897-7737.