For international students away from home, coronavirus is 'scary' and 'stressful'
USA Today, Orgon, March 20, 2020
by Lindsay Schnell
USA Today interviewed our French student about how she is feeling. This is part of a longer article: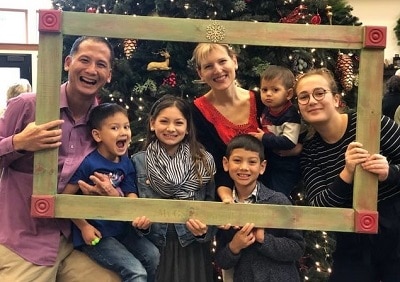 To stay in America, or go home? Coronavirus pandemic brings stress, fear for international students.
It's not just college kids who are worried about the transition to life after the virus – foreign exchange students in high schools have been affected, too.
Students abroad 'scrambling' for flights after Trump restricts travel from Europe
In Channahon, Illinois, about an hour southwest of Chicago, Jill Geers and her family have spent the past seven months hosting two foreign exchange students: John, from China, and Lucca, from Brazil. Coronavirus has been a "tremendous stressor" for Geers, her husband and their three biological sons.
Though they'd originally decided as a group that having John and Lucca stay in America would be best for everyone, Lucca soon received a frazzled email from his exchange program insisting he return to Brazil. Against Geers' better judgement – "he's had a cough for two months, and now he's gonna breathe all that recycled air for how many hours?" – she put him on a plane home. She's not sure if, or when, he'll come back to the states.
For now, John will stay in Illinois, but Geers can sympathize with how hard that must be for his family.
"Your maternal instinct is to have your child home with you," she said. "But if you step away from that, the rational part of you knows it's probably better to follow the CDC's guidelines, to respect the lockdowns and keep them sheltered from germs at the airport.
"But I know it's easy for me to say that, because my kids are all physically with me in this country."
In Sandy, Oregon, Manon Bebin also opted for safety.
An 18-year-old senior from Brittany, France, in the country's northwest region, Bebin has decided to stay in America because "I love my host family, I'm having so much fun with them." She said she was giving a choice by her exchange program, whereas others were not.
"My friend from Spain who is also here, she said she was staying at first," Bebin said. "But, then, the next morning, she said, 'They're forcing me to go home.'"
Bebin worries that if she were to go back to France, she'd potentially get stuck in quarantine in an unfamiliar city, by herself. "Being alone in a room for two weeks in Paris, not being able to see anyone, I'm not ready for that," she said.
So while she can, she's soaking up the time with her American family, which includes four siblings.
"Sometimes, I try to imagine the situation in France, and it's really scary," she said. "It's stressful here, too. But my host family, they're like my real brothers and sisters, I don't want to leave them. But still I'm scared that in a couple days, I'm going to get an email saying I have to go home to France.
"I'm waiting for something, but maybe I'm waiting for nothing. I don't know. It's stressful."