Historic Victories Push Comet Water Polo to #1 Spot in State Rankings!
grandledgecomets.org
Grand Ledge High School, Michigan, April 2019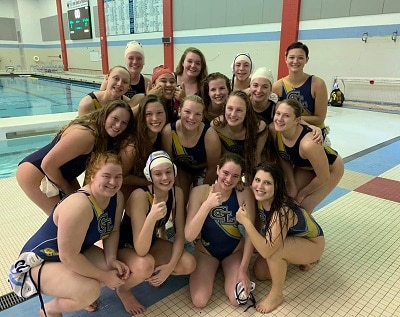 For the first time in program history the Grand Ledge Varsity Water Polo Team is the number 1 ranked team in the state of Michigan. The ranking comes on the heels of the Comets defeating previous #1 and the defending state champions from Hudsonville High School by a score of 9-8 in overtime at the Jenison Varsity Tournament.
After the big win over the Eagles the Comets hosted the #2 ranked Okemos Chiefs at Grand Ledge Natatorium. The Chiefs jumped on top early with a strike from outside 5 meters but the Comets answered back quickly in the form of a transition goal from junior Jordan Haywood. From there the Comets would roll to a 10-2 lead in the 3rd quarter before securing the 11-6 victory.
With wins over the top two teams in the state that was enough to catapult the Comets to their current top state ranking. The team is led by 2nd year Head Coach Alec Mull who guided the team to its best finish in school history last season with a 4th place finish at the 2018 State Tournament. The team has raced to an 11-1 record in 2019 with its lone loss coming in the form of a 6-7 setback at the hands of New Trier, a top 5 team out of the state of Illinois. Coach Mull has this years team aimed directly at securing a second straight birth in the state tournament and shooting for the schools first state championship in water polo.
The leading scorer for the squad this season has been senior captain Isabel Lee who has expanded her game this season to include a deadly accurate outside shot. Defensively the team is being spearhead by senior goalie Elena Sierra-Clemares who is an exchange student from Spain and provided stellar goaltending play. Junior Lola Mull & senior captain Anah Stahelin have led the defensive efforts in the field for the Comets while junior Grace Weston has provided a much needed scoring punch.
Senior Cameron Magee has contributed both offensively and defensively as has the platoon of sophomore Nicole Stensen and the afore mentioned Jordan Haywood.

Elena is an exchange student from Spain
Living with the Skerratt family in DeWitt, Michigan