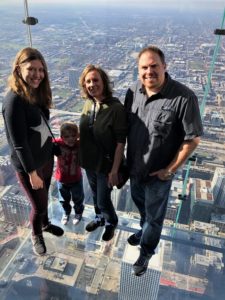 I have learned so much about myself
When I left home, I had to leave my comfort zone.
Say goodbye to my everyday life in Denmark and start a completely new life for 10 months. Saying I was nervous would be an understatement, I was terrified. But I knew that I was going to have the year of my life! And I was right! Now I'm sitting here, 7 months later, with the best host family in the world, amazing friends, and I don't want to leave.
I started my year of at a "soft landing camp" in New York.
It was with a lot of other exchange students and we all had really fun. 3 days later I flew to Houston, and in Houston I was greeted with big hugs and a sign saying "Welcome Emma". It was so nice to finally be able to meet my host family!
My first day of school was exciting.
Walking into a school with 3500 students can be a bit overwhelming when you come from a school with 300! I made some friends really quick and everyone was so nice to me, which made everything easier.
For thanksgiving I went on a trip with my host family to Chicago and Iowa.
We saw the Willis tower, the aquarium, science museum and a lot of other stuff. We had so much fun, and I will never forget that trip.
I also just went on a trip with Belo USA to Hawaii!!!!
It was a trip with a lot of other exchange students and we all had so much fun. We went snorkeling, surfing, hiking and so much more. It was really fun and a really amazing experience! I would really recommend this trip to future exchange students, because you get to have fun with so many others who are in the same situation as you, and of course it is amazing to be able to go to Hawaii!
In the start of the school year it was football season.
It was so cool to experience the pep rallies and go to the different football games. I went to the big games like the homecoming game, patriotic game and I even went to a Texas A&M football game with my host big sister Kensey! I really loved football season, even though my school team didn´t do too good, it was still so much fun!
This has been one of the best experiences in my life and i am so happy that I made the decision to be an exchange student.
I have learned so much about myself. You learn to be more independent and you get to experience another culture for 10 months!
Emma 🇩🇰
exchange student from Denmark
living with the Sydness family in Tomball, Texas