ICES Exchange Students participate in the CSIET 17th Annual Art Cover Design Contest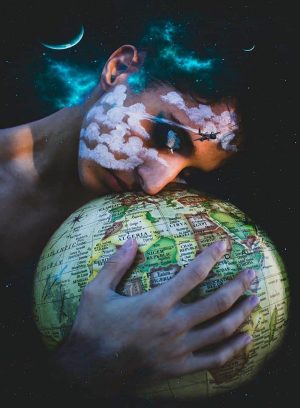 "I had this opportunity to come and meet the other side of the world, meet a lot of people and live intensely. In my language we have a expression whose if I try to literally translate means "hugging the world" and we use that to indicate that you trying to do everything you love, you trying to fly far away from your home and meet other things, other cultures and be happy. It's what my work means, I am literally hugging my world and living my life."
Renan is an ICES exchange student from Brazil who decided to participate in the CSIET 17th Annual Art Cover Design Contest.
Renan is living with the Larson family in Eugene, Oregon.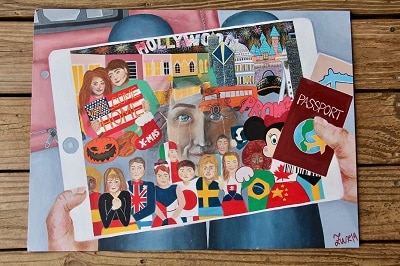 "I wanted to capture my memories and experiences that I experienced during the year, and also capture my actual reaction. You can see how I am sitting on the plane with my suitcase, plane tickets and passport on my hands, and watching my memories in the laptop. I tried to captured all traveling experiences as "Hollywood, New York and Chicago buildings, Disney land, etc." I also painted downtown, typical school bus, Prom sign, and traditions as Christmas, Thanksgiving, and Halloween. I wanted to show you all people dressed up in specific flags from all over the world, different races and beliefs, because we are one big family. Very important part is my host family as well which make my dreams come true and let me spend my exchange year with them. And what about the emotion? While you can see, I tried to make a reflection of my face in the screen. You can see that I am crying. Also you can see a smile. I am not crying because I am sad or angry. I am crying because I am happy and I am so glad that I made friends that will last a life time. I have the opportunity to experience many amazing things and share them with my American friends and friends all over the world. That is the reason of my smile and tears. The very last thing what I should say is: THANK YOU."
Zuzana is an exchange student from Slovakia and lives with the Cornell family in Flushing, Michigan.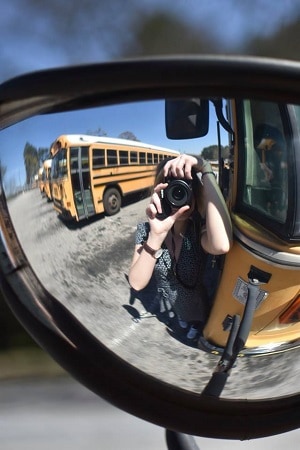 "Exchange to me, means reflection. Reflecting a new culture, family, school, and friends. "Does this go with my values?", is the question I asked myself the most. But it is also the reflection of myself in these things. "Why do I act like I act?" "How does my culture do this different?"That is why I choose a mirror which I reflects myself and school busses in the background for my artwork."
Lea is an exchange student from Germany and she is living with the Jackson family in Muscle Shoals, Alabama.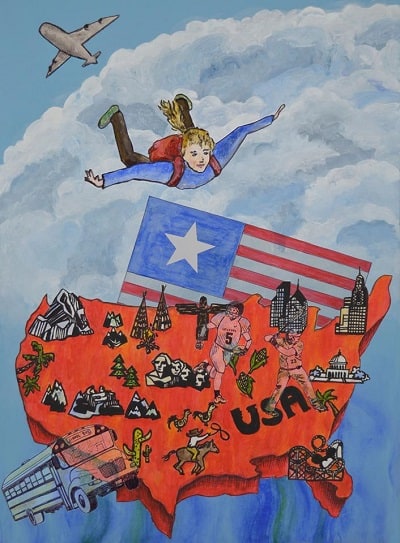 "Inspiration is from US culture and the biggest differences which I have realized and about exchange students life."
Tereza is an exchange student from Slovakia and is living with the Ross family in Greenacres, Washington.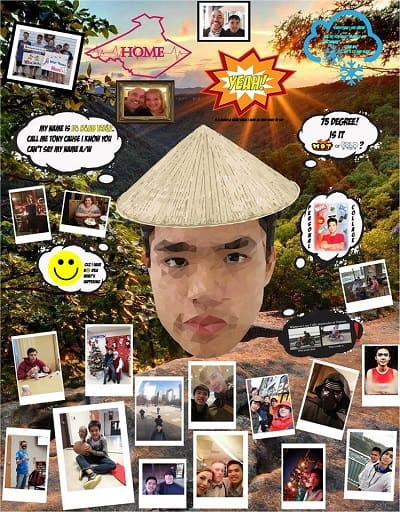 "The artwork is like a poster describing me as a young and curious kid ever since I put my first step in the United State. The differences in languages and cultures sometimes put me to funny and embarrassing situations but also inspired me to create a few comic-book textboxes. The pictures attached around the project make up my journey of whom I met became close. I hope you enjoy reading those tiny textboxes that I had fun making them and having a good look at my complete artwork."
Trien is one of our exchange students from Vietnam. He is living with the Kelly family in Nettie, West Virginia.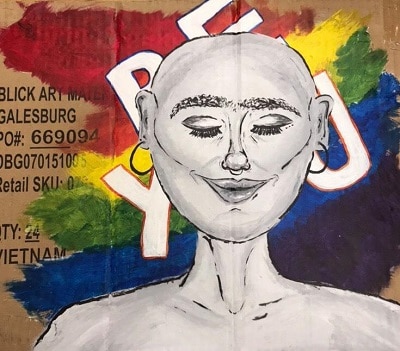 Jana is one of our talented exchange student from Germany who has sent in several artwork to the CSIET 17th Annual Art Cover Design Contest.
Jana is living with the Harban family in Bondurant, Iowa.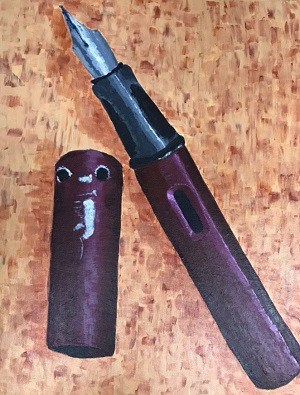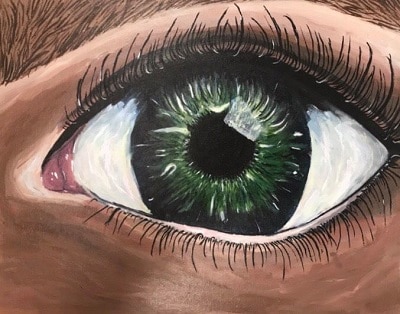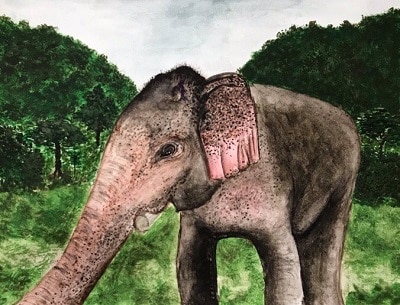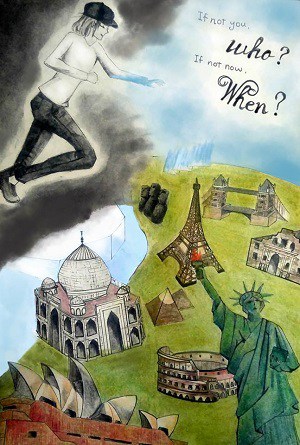 "It was a challenge to come to America but it changed me and I have a better thought about world and myself, so I wanted to express that."
Mia is one of our exchange students from Japan who is living this year with her host family in Tomball, Texas.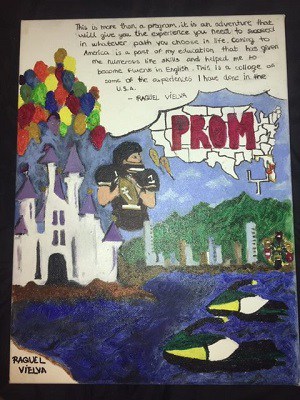 "This portrait represents some of all my experiences in the Unites States, where I came to improve my English and magnify my knowledge of the country and cultures. The castle it's for Disney, the football player it's for me a representation of one of more famous sports of the country; I draw the sea and jet skies since I'm living in Florida and I go often with my family to the beach, and we had the opportunity to ride jet skies that was one of my wishes to do. The fair, the big cities like Orlando, Miami… all of this is part of my experience. Art is one of my passions"
Raquel is another talented exchange students from Spain. She is living with the Williams family in Venice, Florida.