It is unbelievable that its already been over 100 days since I came to America
It seems like it was yesterday I was packed up in one suitcase and ready to leave my home, my family, and my friends in Denmark to go on the biggest experience in my life and it has definitely been the best decision I've ever made.
Coming to a whole new country and a new family isn't as easy as I first thought it would be. I was really homesick the first month, not knowing anybody, starting in a different school and trying to fit in to a new family schedule was hard for me, but after some time I soon started to settle in to my new life.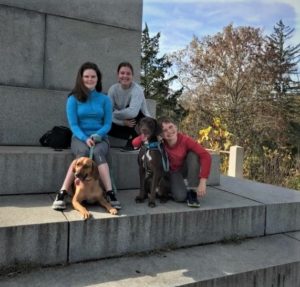 I started the year on the school's varsity soccer team, a sport I have enjoyed playing for many years! Being a part of a sports team on the school is so much fun and it helped me to settling in so much easier.
I have done a lot of stuff with my host family and the friends I've made already, and whether it had been bike rides, festivals, going out to see movies and concerts I have enjoyed every single thing. And the feeling of being a part of a new family, that just a few months ago was completely strangers, is amazing.
I look so much forward to the rest of the year and all the memories I'm gonna make!
I will never regret this choice and it has made me another girl when I'm returning back home again.
Alberte 🇩🇰
exchange student  from Denmark
living with her host mom Mara in Shenandoah Junction, West Virginia