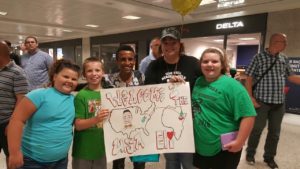 "It will help change my life for ever"
"My name is Ermiyas, but everyone calls me "Eli". I am 18 years, l and come from Ethiopia. I have two brothers and my Mom back home. I am from a poor family.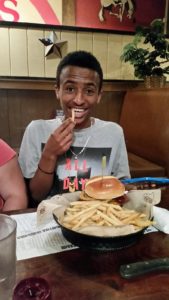 I have had a really good time here in the US so far. I love soccer, even though I do not have a soccer team in my school. My favorite food is Burger, and I have had many since I came to the US. I like pizza, also. I've had a good experience and am so very happy to be here. It is more difficult than my home country, but I have a good experience. I am so happy to be here. I like it a lot and want to gain more knowledge. In my country, we did not learn the same as here in the US. It is modern here. It will help change my life forever.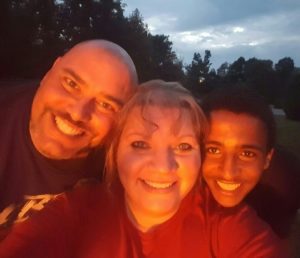 Some things I have experienced while being here: I went to the WV State Fair. I LOVED the bumper cars. My family had to pull me away from them finally. Haha. I loved it. Also, I went to the Beach in North Carolina (the Outer Banks) with my host family. It was beautiful. I have never been to something like this. It was very exciting to me. My sister buried me in the sand. It tastes very bad by the way (so does the ocean) Haha. I have gotten to see American football and have gone to some high school games. I like watching football and spending time with my family. We had a bonfire, and my family taught me Smores. I learned to play my first video arcade machine. My favorite thing is when I got braces. I will smile SO BIG when they come off. I am very thankful for everything.
I have never been to a country like this. The US is amazing. I am so happy. Thanks to everyone who made this journey possible for me."
Eli 🇪🇹
ICES exchange student from Ethiopia
living with the Kelly family in Nettie, West Virginia
Every year ICES gives a scholarship for a student to participate in the exchange program. This year Eli from Ethiopia is the recipient of the ICES Scholarship! A big thank you to the Kelly Family in West Virginia for hosting this young man!