Italian exchange student and friends win 'catapult' competition at science fair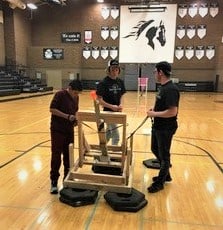 Hi, my name is Gabriele and I'm an exchange student from Italy in Sisters, Oregon.
Recently in my high school we had a science fair, pretty big event since mine is a really small community with 3,000 habitants and less than 500 students in the high school. During the science fair the school organize every year a Catapult competition for the whole school district, and I was required to take part of it since I'm taking AP Physics.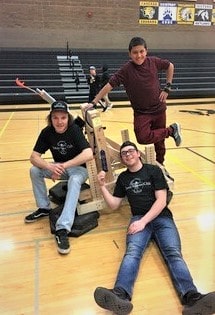 The challenge was to build a catapult using spring energy, and that was able to shoot a tennis ball. I decided to participate with one of my classmates and best friend Daniel, he is a really smart guy and very skilled in building things out of wood. Together we designed the catapult using AutoCAD, a designing software, and then we built it. We been spending a lot of time and energy behind that project, but we are really satisfied with the result since we won the competition. We had to compete against 11 teams that were very ready and competitive, and the prize consisted in $ 300 cash from the school district.
 
Gabriele
exchange student from Italy
living with his host family in Sisters, Oregon
 
Learn more about becoming an ICES Exchange Student and Study in the USA