Jonesboro welcomes Spanish teen
The Sun, Jonesboro, Arkansas, January 27, 2020
by Alex Gladden, Sun Staff Writer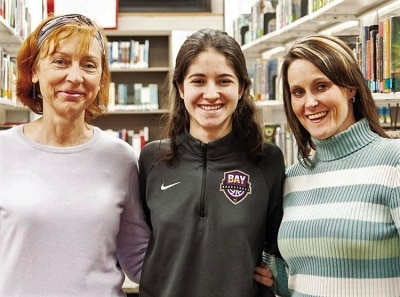 Before Julia Matheu-Corominas arrived in the United States, she didn't know anything about Arkansas, let alone Jonesboro.
But the Spanish student is making the city her home until May and attending Jonesboro High School. She's living with a host family through International Cultural Exchange Services, a program that brings students from different countries to the United States.
"I feel so happy that I was brave enough to come here," Matheu-Corominas said.
Matheu-Corominas started the program at Bay High School at the beginning of the school year but moved host families after the first family didn't work out, she said.
When Jennifer Smith, a Spanish teacher at Jonesboro High School, learned that Matheu-Corominas needed a place to stay, she opened her home to the 15-year-old.
"I have two teenagers myself so what's one more?" Smith said with a laugh.
If Matheu-Corominas hadn't found another host family, she would have had to return to Spain and repeat the school year.
Smith said her family was excited to learn about Matheu-Corominas' culture.
Irina Khramtsova, a representative from International Cultural Exchange Services, thinks it's critical for Jonesboro residents to learn about other cultures.
"I believe it's very, very important for people, especially in Jonesboro, to be exposed to other cultures," Khramtsova said.
Khramtsova taught cultural psychology at Arkansas State University before she retired in August. She said research shows that people who learn about different cultures are more accepting and flexible in their thinking.
Jonesboro High School has typically had one to two exchange students a year, Smith said. The school allows no more than five at a time.
This year, Matheu-Corominas is one of two exchange students, but she is the only student attending the high school through her program, Khramtsova said.
Host families choose which students come stay with them, so having more students at the high school from International Cultural Exchange Services depends on if more families volunteer to host exchange students, Khramtsova said.
In December, the program, which also looks to place American students in foreign countries, was looking to place 30 students with families in the U.S., Khramtsova said. All the students found homes.
Families provide the students with food and transportation during their stay, and aren't reimbursed for the expenses.
The program accepts students aged 15 to 18. Matheu-Corominas chose to be a part of the 11th grade, even though she's a year behind her classmates, because she typically hangs out with older students.
Smith said being a junior also allows Matheu-Corominas to participate in more activities, such as prom, than if she attended school as a sophomore.
Matheu-Corominas' sister inspired her to participate in the program, she said. Her sister lived in California through the program six years ago to improve her English — something that Matheu-Corominas has been able to do as well.
"She had such an amazing experience; I wanted to do it," Matheu-Corominas said.
The experience has taught Matheu-Corominas to adapt to her surroundings.
"It was a big adjustment," said Matheu-Corominas, who lives in the Canary Islands in Spain.