Leo's road to semi-state part of worldwide journey
Parkview Health, Fort Wayne, Indiana, October 25, 2019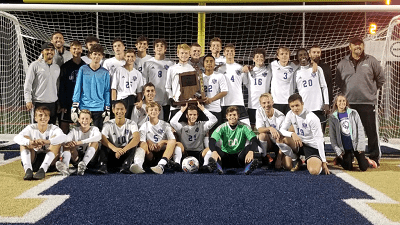 What has become a season of firsts for the the Leo High School boys soccer team has also turned into once-in-a-lifetime experience.
The No. 17 Lions (16-2-1) head to the 2A semi-state on Saturday, October 26, with three foreign exchange students who have helped find new frontiers on the pitch.
"I've called this my home," senior midfielder Ibai Marro, from Spain, says of his time at Leo. "I've been really integrated to the team. Coming here, and all of a sudden making history – it's crazy."
Ibai, fellow Spaniard Alfonso Peralta and Milkais Abraha of Germany are three of 11 exchange students spending all or part of the school year at Leo through the International Culture Exchange Services, a global nonprofit organization that facilitates study abroad programs.
Alfonso, a junior forward, leads the team with 18 goals, 6 assists and 42 points. Collectively, in 3 seasons under head coach Trevor Peasley, the Lions have roared to back-to-back Northeast 8 Conference championships, back-to-back sectional championships and the program's first regional championship.
"Considering we were the first team ever, we've all gotten really close," senior midfielder Trevor Wise tells ParkviewSportsMedicine.com "We've all just clicked really well. I feel like since we have made Leo history, it will give the lower classmen the inspiration."
East Allen County Schools has partnered with the ICES for at least 20 years, according to ICES regional administrator Jill Bonner.
Of the 1,200 to 1,300 foreign exchange students brought to the United States each year, Indiana receives about 65, she says. This year, about 40 students are assigned to various schools around Northeast Indiana and move in with host families. For athletes, ICES and the schools work with the Indiana High School Athletic Association to make sure students meet eligibilty regulations, as well.
"I love seeing these kids have the experience," Bonner, whose son, Parker, also plays soccer at Leo. "At senior night this year, the [other] 3 seniors mentioned playing with the exchange students as one of their favorite memories."
"The first day I was with the team, it was so nice. Everybody was smiling, everybody was happy, everybody was open," Milkias, a sophomore wing, adds. Unlike Ibai and Alfonso, Milkias' study abroad program is just this semester, and he will return to his hometown of Frankfurt in December.
"I wish I could stay. It's been such a great experience to be here."