Michigan City exchange student gets to have her prom experience
The Michigan City News-Dispatch, Indiana, March 25, 2020
by Jim Peters, staff writer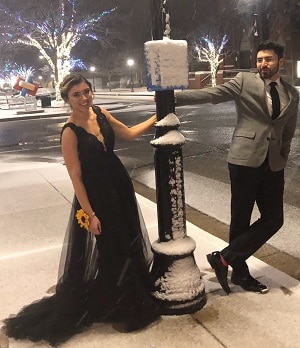 It's a modern-day Cinderella story, and the only thing missing was the actual dance.
Despite the COVID-19 virus and her country's mandate to return to Spain, Michigan City High School exchange student Paula Fonz was able to have her prom – or a memorable equivalent – before flying back Wednesday.
"I wanted to have a prom so bad," she said. "It's an American thing. We don't have prom in Spain. When I found out we weren't going to be able to have a prom, I was sad."
That's where host family, Renee and Matt Fennell, stepped in. Renee Fennell operates Paris House of Bridal in Michigan City, and has plenty of students come there for prom dresses.
"The whole thing started with the kids looking forward to having prom, but due to the quarantine, they weren't going to be able to do it," she said.
"A lot of the seniors were coming; all the girls were crying; so we started organizing things to throw a prom for everybody. That got them happy again."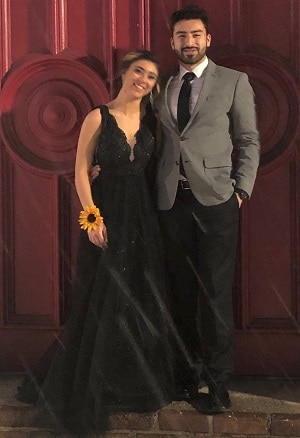 But then word came that the Spanish government was making all out-of-country students come home, so Fonz, who lives in Palma on the island of Mallorca, would be gone when it was held.
It was on to Plan C for Fennell, who got in touch with close friend Cecilia Galvan about another option. With her shop, Fennell could provide the dress, and they could get Fonz's hair and make-up done. As for her date, Galvan's son Gabe is a Michigan City senior who had become friends with Fonz in August after she arrived.
"Our families have been friends for a long time, so when I heard they were going to have an exchange student, I thought, awesome, I'll get to know her," Galvan said.
"We actually met at a soccer game. She had a bunch of friends already and they were friends with my friends, so we ended up friends pretty quick."
Galvan was all in with the prom idea.
"If we weren't going to have a prom, we were going to go all out," he said. "We wanted to do something for her, give her the experience of an American high school teenager."
Last Saturday, the Fennells drove to the Galvans' home, putting a blindfold on Fonz so she didn't know where they were going.
"They drove around in circles in the neighborhood to confuse her," Galvan said. "I saw them pull up and then they took her in a circle in the yard. Then I was like, now I'm confused."
Inside the front door, written on a small blackboard, was Galvan's "prom-posal": "Before you catch a flight, would you like to go to prom?"
"It was easy on our end," Fennell said. "She just had to pick out her dress."
For Fonz, getting ready was half the fun, telling Fennell she had never felt more beautiful.
"I've never dressed up, I never wear makeup," she said. "I didn't want to wash it off."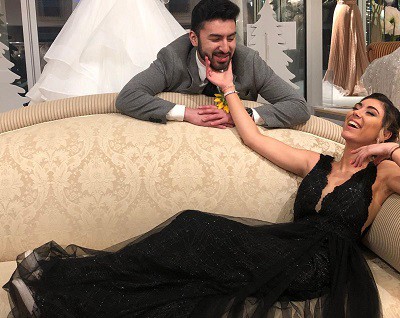 On Sunday, Fonz and Galvan, decked out in a suit, exchanged flowers and took pictures inside and outside Fennell's shop in the Uptown Arts District, and back at the houses.
"People usually go to the beach, to the lighthouse for pictures," Galvan said. "We just drove around downtown. I was so happy. I was glad she got to dress up. It meant a lot to me to be able to give that to somebody else. Otherwise, she wouldn't have had the opportunity."
The families dined on Olive Garden at the Galvans' home, Fonz giving the famous bread sticks a thumbs-up.
"Honestly, it was like a mock prom," Fennell said. "We wanted her to experience everything."
Eight months ago, Fennell never would've imagined this was how it would play out when her family agreed to host an exchange student.
"I'm good friends with the coordinator from the agency," she said. "She'd been begging me for two years, I always said, 'I have no time, I can't do it,' then I finally broke down the week before she came. I'm glad she did."
Though he and Fonz will stay in touch through social media, Galvan expected it to be an emotional good-bye when she left Wednesday.
"I wanted to spend a year in America, to get better at my English and I've gotten way better," Fonz said. "It's been great. I made a lot of good friends, and Gabe's one of the closest for sure.
"It's been great. My host family is like a second home. It's sad with leaving, but I will come back."