When I first arrived here in America and people would ask me "…so do you like America the most or Denmark?"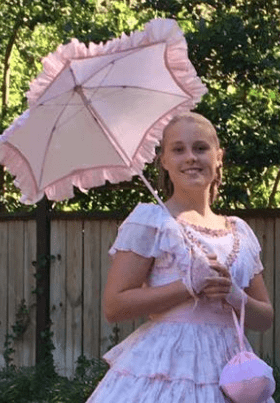 I knew that I definitely liked my home country Denmark the most. Whenever people ask me the same question now, I have absolutely no idea how to answer. America is certainly the land of opportunity and I have come to love it so much.
After a rescheduled flight and a long drive home in my local coordinators convertible, I finally arrived at my American home where my host parents were waiting to greet me. The first day with my host family was super awkward and I was so confused, however it did not take long time for me to get settled with my family.
The first months of school were tough.
It was hard getting friends and everything was new and different. However, I still enjoyed myself, and I think that because I was really open to everything and tried to engage in all the opportunities I got. It helped make the rest of my stay successful. My host family and other exchange students have been very helpful and supportive when I have had hard times. There have just in general been so many incredible people who always had my back if I needed it.
My second semester has been great! I made the soccer team and got a lot of really cool friends from there. Schoolwork is easier because my English has become better. Now I have a lot of friends at my school and I finally feel like I fit in. I'm almost like any other American… almost, haha. School is just really awesome and I'm just enjoying the rest of my stay and hanging out with my friends and my host family.
I have experienced so many cool things while I have been here in America.
I have been in talent shows, gone on trips, been at prom, enjoyed Halloween and Thanksgiving and our group's Christmas party and had so much fun with everything. My very best experiences over here, however, are all the small and often unexpected experiences such as getting a compliment from a complete stranger, going surfing, seeing eagles and hawks flying over the soccer field, discovering that there exists trees with seaweed on them and see creepy bridges, having long conversations with inspiring people, driving for two hours in a convertible, taking the trash out with my host mom and suddenly start dancing and just realizing that anything is possible.
Everything I have experienced here in America has taught me something valuable. I feel that I have grown as a person and that I have become a more happy person. People here in America have taught me by just being themselves that I can be myself too and be cool in my own way. I feel like I really fit in here in America.
This year has been so different from what I had expected before I came here.
It has not been worse or better than I expected, just different. It has been tough and it has been wonderful at the same time.
Whenever I go home I hope I can bring some of the American culture and the southern hospitality with me. I also hope I can bring some of the delicious pink lemonade, some hushpuppies and some sea salt caramel truffle ice cream with me, haha.
America is certainly the land of opportunity.
by Emma from Denmark
Emma is living with her host family Serens in Leland, North Carolina