My Experience as an Exchange Student in the U.S.
#1. Being an Exchange Student in America-the Most Precious Birthday Gift in my Life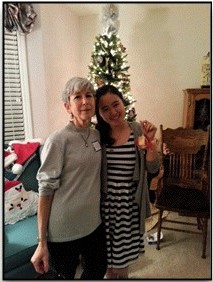 In August 30th, 2013, I left my family in South Korea and headed to America. It was actually my birthday, and I had never imagined it would be one of the best birthday presents of my life. Prior to my travel to America, I had never traveled outside of Korea by myself, and honestly I was scared and confused at first. What scared me the most was the fact that I was about to decide everything my own, and I was on the verge of becoming an adult! I believe that all the experiences I encountered as an exchange student in the U.S. helped me shape and develop a sense of maturity, responsibility and independence.
When I first met with my host parents at the airport, who had a hand-made sign with my name on it, they gave me a great big hug, and it was this moment that I knew I would be welcomed and loved during my stay in America!
#2. Being Immersed with Host Family-the Best Way to Learn American Culture and Tradition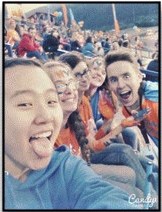 If someone asks me about the secret to my exchange student experience, I would say communication and an open-minded personality are the key factors. I always tried to initiate conversations with host family and friends and also joined school activities as much as I could to further immerse myself into the community. As a result, I was able to adapt in a new environment and made many friends in such a short time period.
With the help of my friends (picture on the right) at the school, I was quickly able to adjust to school and it made the experience truly amazing. They taught me how to play volleyball, took me to football games, and cooked American food for me. I was even invited to a trip to the beach by one of my friends' family. They showed me how they lived as a family and taught me a lot about American culture. It was the most realistic and invaluable memories I had, and I could never have experienced it if I stayed in Korea.
Making friends did not go by itself, but I knew nothing would come easily unless I tried really hard. Though I came from different country, culture, and language compared to my friends, I felt a strong bond from my friendship with them, and it would not have been possible if I had not approached them with sincere heart and courage!
My Favorite Teacher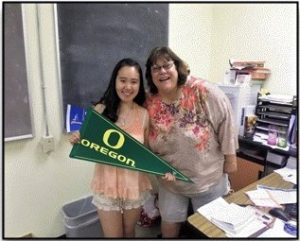 In my school, there was a teacher who was especially kind to me, and she always encouraged. She treated me with love and warmth and called me "Sweetie" every time she called me. I really want to become a teacher like her someday who acts out of true love and care for students. Personally, I think one of the most impressive things about American culture is that people call you 'Love', 'Sweetie' rather than calling names. I was amazed how American people naturally kept smiles on their face and asked how things were going even to a stranger like myself. Ultimately it made me realize that Americans in general possess really good manners and Korean people can really use such nice manners!
#3. How Great You Do Depends on Your Effort
Flute Solo Stage Challenge
I joined the school band and played flute. There were about 30 students in the band, and I was given a role to play flute. Although I was in the school orchestra in Korea, I never learned to play flute properly. However, I tried my best in the band. Then one day, the band teacher gave me a chance to play solo at a band competition during school festival. Prior to this, I never had a chance to perform solo stage, and I was worried and scared for fear of making mistakes. But I did not want to just give up. Instead, I started practicing every day for more than 2 hours. With the cheers from my friends and the practice I put in, I successfully finish the performance, and my school band received a huge round of applause by the crowd. Some of my friends were amazed at my dedication, effort, and my ability to improve my skills in such a short time.
Struggle in History Class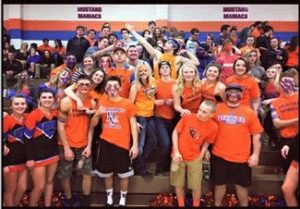 When it comes to academic achievement, American history was the hardest subject to learn for me. Countless historical happenings/events and the people involved with them were enough to distract me. Then I decided to buy a book about American history that I can read with more ease and reviewed it over and over again in accordance with the school curriculum until I understood it. I kept reading the book as I had some free time throughout the day. Once I understood U.S. history in a broader sense, I quickly gained interests in the class. Frankly, the first few days of the school were really tough but after a few weeks, I started to understand what the teachers were talking about and by the end of the semester, I could even voice my thoughts/ideas on the class contents. I was really happy when I received straight A's in all of my classes. I learned that if you put in enough effort, everything is possible!
#4. Little Ambassador
The Importance of Exchanging Cultures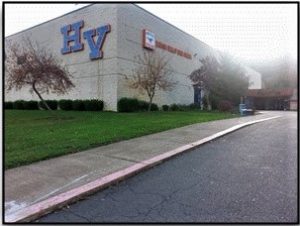 My American friends were quite curious about Korea ever since I met them. They asked me "Have you ever seen PSY face to face?", "What kinds of food do people in Korea eat?" Then I thought to myself just as I learned many things about U.S. through my friends since I came to America, it would be great if I shared Korean culture with them in exchange. Hence, I brought Korean candies and cookies to give out to my friends. During Christmas, I made a bunch of name cards with my friends' names on it in Korean alphabet. I also gave a short presentation about Korean holidays and showed them traditional Korean clothes and jewelries. Sharing and understanding each other's cultural background is an important factor in a friendship!
#5. Back to Korea & How I Changed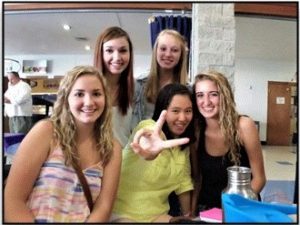 After I came back from America, I became a completely different person. I was confident, I knew what I was responsible for, and I learned how to manage my time. I have also heard from my friends and family that I smiled more often. Overall, I tried to behave like a global person because I came to know that there exists much bigger worlds. One of the byproducts of my exchange student experience was that my English improved a lot over the year and I started getting much better grade in my English class since I returned to Korea.
If I was given a chance to participate in this program again, I would gladly accept it for I believe nothing is more worthwhile than this amazing opportunity, and I would be happy to recommend this program!
Lastly…
I would like to especially thank my host parents (Jon and Anita Covey) and my coordinator Elizabeth, who took care of me with an endless love. Because of them I could adapt well and learned a lot. Also I want to say thank you to all the people I had a chance to meet in America as well as the ICES staff for giving me this great chance to be an exchange student in America!
Suah Lee 🇰🇷
previous exchange student from South Korea
was living with her host family, Jon and Anita Covey, in Grants Pass, Oregon