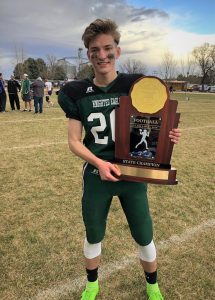 My Football-Story
When I went to the US I was really excited to play football, but it was not like I expected it.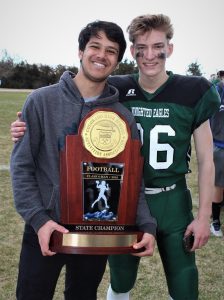 At Football we had to lift what I have never done before. It was pretty hard that I didn't do all my lifting. The coaches got mad at me and I had to run. I got really mad because of all that stuff and talked to my host mother Kim about football. She told me to just keep going and that I for sure will get used to lifting and all that stuff. I never believed that and was just like "Yes sure". But after a few weeks it got really ok with the lifting and I finally got used to it.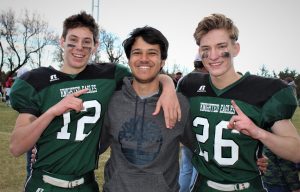 By the time I made a lot of awesome friends at Football and after 2 months I just loved it. I finally liked the coaches and the games and practice were amazing. So I can tell you guys who want to quit because it is too hard: Just keep going… the first weeks will be hard but you really will get used to that and it will be a lot of fun.
Arne
exchange student from Germany
living with the Driscoll family in Bethune, Cololrado
– – – – – – –
The ICES Local Coordinator added to this story:
I had Arne write this for my future students, as the students often want to quit before they know what's really happening.
Arne (#26) from Germany, Marcus from Brazil and Ignacio (#12) from Spain are all ICES students living in Colorado. The team consisted of 3 schools coming together to win the Colorado State 6man football championship. They were acknowledged on the field of the Denver Broncos. Arne was the backup kicker and Ignacio was the main varsity kicker. Marcus had an ACL injury just before he came, but the coaches included him as if he were one of their players.
It was a great season.