My year here was way more than what expected and it was way better too
Benny was an ICES student last year and she shares what her exchange has meant to her: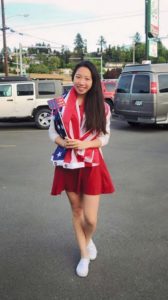 My experience in the States, in Oregon, in North Bend is now over. It doesn't feel real that I'm leaving and no one knows when I'll be back, but I guess soon or later I'll realize that I'm really going back home.
My year here was way more than what expected and it was way better too.
I learned so much and not only in classes: I learned to take my chances, to try and give the best in everything, and I also learned to make the first step in building friendships and other relationships.
It was not always easy and fast: trying sports as someone who has never done any kind of sport was very hard, trying to improve my English and fixing pronunciation and my accent was always complicated, and staying away from home and going over homesickness was a struggle.
But once all the challenges were gone I received back more than what I gave. By giving all myself in every practices I was able to run without stopping by the end of XC season, by trying and practicing English I heard many people saying that my English was good, and by concentrating on different activities I met and made a lot of special people.
And yes, now I'm going back home to Rome, but I hope I'll be remembered as a young lady who really enjoyed staying in North Bend.
I take a chance, writing this letter, to thank each of the people who have been part of my experience: friends, teachers, school staffs, my local coordinator and of course my host family.
It was an immense pleasure to be part of the North Bend community and I'm going back grown-up and with tons of memories. Hopefully I'll be back someday or at least I'll get to see some people in someway.
I wish the best for everyone I met in the States and particularly for my family and the class of 2015 and also for the future exchange students!
I'll miss North Bend and I'll miss all of you.
Thank you again for making my exchange unforgettable.
With Lots of love,
I Eun aka Benny 🇮🇹
exchange student from Italy
was living with her host family in North Bend, Oregon
(P.S. I am Korean but I'm from Italy, born and raised and still living in Italy)