Neuntefel loves to travel
The Eclipse, Flint, Michigan, January 27, 2020
by Jonathen Hart, Sports Editor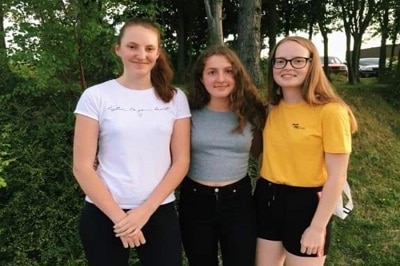 Senior Julia Neuntefel came from Austria to complete a semester of high school in America.
Neuntefel is one of two exchange students who came to America for only a semester.
"I could only come for a semester because I would have had to repeat the school year back home," Neuntefel said. "I didn't want to do that, but I would have stayed for the whole year for sure."
Neuntefel lives in the northeast part of Austria in a rural area.
"Most people think there are only mountains in Austria but I actually live in a rural region with a lot of forests and fields," Neuntefel said. "I love to live there because we can have our own gardens and they are in the middle of the nature."
In Austria, Neuntefel lives with her parents and her three younger brothers. Neuntefel has three cats at home.
Neuntefel decided to join the exchange program when she turned 16.
She loves everything that has to do with art, she loves to bake, and she also enjoys trying new things whenever she can.
Neuntefel also enjoys snowboarding and spending time with her friends and family. Neuntefel likes to travel from time to time when she has the opportunity.
Neuntefel is experienced with the English language, studying it for the last six years. Now Neuntefel is learning French and after that she wants to learn a fourth language.
This is Neuntefel's first experience being in America but she has read many books and has watched many American movies. She wanted to try typical American things in her time at KHS.
Senior Helena Maltempi, who is also in the Foreign Exchange program, noticed right away that Neuntefel would be a great friend.
"She was super sweet. I love knowing that I would have her as my friend during the exchange," Maltempi said."We are living the same way so we can always share experiences and help each other along the way."
Maltempi thinks Neuntefel is an easy person to talk to.
"We talk a lot about how we feel homesick, or when we need help with school," Maltempi said. "It's easy because again we are living the same way; we didn't know what was first going on when we moved here so it's easy to understand each other and our problems."
Junior Alliyah Tingley was friends with Neuntefel while she was stateside.
"She is an amazing friend," Tingley said. "She helped me through so much while she was here and she was always super kind to everyone that she met."