Shawnee exchange student a net success in girls tennis
Springfield News-Sun, Ohio, October 09, 2019
by Greg Billing / Contributing Writer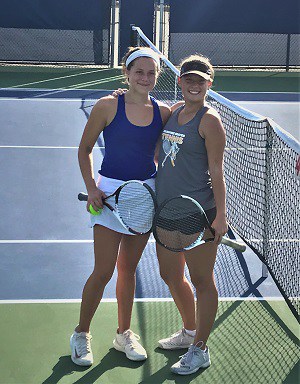 When she steps onto the court at the Lindner Family Tennis Center in Mason on Thursday, Jitka Jemelkova will be about 4,5000 miles from her native Czech Republic. To Jemelkova, though, the court will feel like home.
The junior at Shawnee High School has adjusted well during her visit to the United States, and perhaps no place better than with her Braves' tennis family.
"Food and people. That's the most amazing things here," said Jemelkova, who won the Division II sectional tournament singles championship last Saturday at Troy to qualify for district. "Olive Garden, then Red Lobster, Cracker Barrell. My host family (Phyllis and Raymond Monroe) of course.
"I like it here. We play a lot of matches, which is nice. We play after school and have a school team (which doesn't exist in the Czech Republic). You have friends and an amazing coach."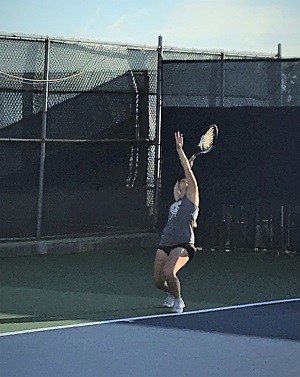 Jemelkova is one of seven area plays competing at district. Northwestern qualified two doubles teams in D-II. Freshmen Leah Fraker and Macy Yeager enter as No. 3 seeds and seniors Leah Dotson and Allex Smith are No. 4 seeds. In D-I, Tecumseh senior Kayla Bush and freshman Olivia Walrath also advanced as No. 2 seeds.
Two wins are required to qualify for the state championships. That's a tough task considering Mason, Cincinnati and Centerville are considered some of the best sectional sites in the state. Jemelkova has come this far, so what's a few more miles returning to Mason for the state tournament?
"We'll see," Jemelkova said diplomatically. "I don't want to say something … yes, of course I want to win. I'll try my best."
Jemelkova said there are no school teams in the Czech Republic, also called Czechia. Among other differences in tennis between the two countries, she said players don't call out the score before each serve and line calls can be challenging. She played on clay courts in the Czech Republic, which makes it easier for calls to be made with the cloud of dust.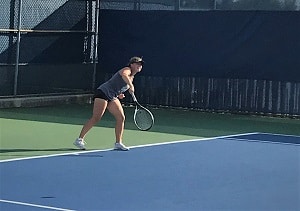 "Once we worked out some jitters at the beginning of the season, we've been working a lot with her mental aspect of the game," Shawnee coach Lori Driskill said. "Her strokes are very talented. … I'm very proud of her. She had some tough competition (during the first day of the sectional tournament) so I think that built up her confidence. I'm excited to see where it goes and what she can do after high school."
Jemelkova returns to the Czech Republic after this school year to finish her senior year. After that she hopes to earn a college scholarship and return to the United States.
"Now is to have fun," Jemelkova said of her high school experience. "I just enjoy it here. It's an amazing experience. I hope I'll be back."
. . . . . . . . . . . . . . .
(Jitka is an exchange student from Czech Republic, living with the Monroe family in Springfield, Ohio)