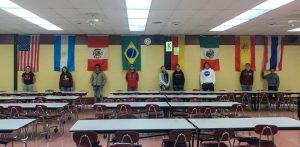 So proud of this small school
Hello there! Here is a recent photo from this week that made me so proud of this small school. The school surprised the exchange students over the weekend by putting up each of their flags in the cafeteria. We have a school that share a cafeteria with Preschool to 12th grade. It's created the mere tart students to ask more questions of why they are there and what they mean and what countries are they from.
This is my home school, Deckerville Community Schools in Michigan, which I also grew up in. Chastity Franzel (Local Coordinator) and myself, Kristy Brown (Local Coordinator) were so fortunate to both place four students in our home town school totaling 8 students in one small country school!
The school board asked the families and students to come to their meeting Monday night to introduce themselves. It went well. I even suggested that each of our students go to the elementary throughout the year and each pick a different class and go introduce themselves, tell about their country, about being an exchange student and answer questions the kids have. Raise awareness of our exchange program but teach younger students about another country first hand from a student that lives there.
The students in the photo are from left to right, Addison (American host sister to Coti), Coti (Argentina), Victor (Peru), Maurilio (Brazil), Anabel and Batuhan (Germany), Jose (Mexico), Luis (Spain) and Aoufa (Thailand).
Thank you!
Kristy Brown
ICES Local Coordinator, Michigan