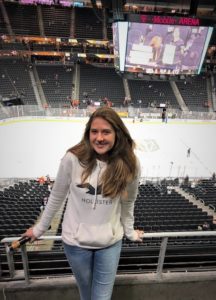 What do the Vegas Golden Knights and my Exchange Students have in common?
Everything!

What a year to come to Vegas as an Exchange Student! We have a new hockey team, the Vegas Golden Knights who took first place in the Pacific Division and are currently in the NHL (National Hockey League) Stanley Cup Playoffs (after winning Round 1 against the LA Kings, they are advancing to round 2 against the San Jose Sharks). #GoKnightsGo! A year ago we didn't have a team. Players were announced in the expansion draft during the NHL Awards Show on June 21st, 2017. Each current NHL team could protect players – and those left unprotected were up for the taking by the Vegas Golden Knights. One player from each team came to Vegas to form the new team. The practice facility didn't even open until September 2017. It's amazing the success this team has had.
So I was thinking about our Vegas Golden Knights and how there are similarities with our exchange students. Our students are selected from a pool of other students from many different countries just as the Golden Knights players were selected from available players from teams in the NHL. They are chosen. Vegas may not have been a place any of them thought they'd ever live – but it happened!
The Hockey Players and our Exchange Students arrived for their new experience around August. They arrived to Vegas with our extreme temperatures from places that were much cooler. And the season or school year will end about the same time as well. Both students and players had to adjust to a new home environment, make new friends and develop new routines.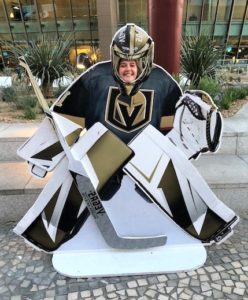 There are so many parallels. Players and students both have to "make the grade" so to speak. If not, they need a tutor/ mentor and further development/ practice. They have to be outstanding citizens and represent the communities they serve.
I have enjoyed bringing a few of my exchange students to a Vegas Golden Knights games this year. They get to experience the T-Mobile Arena which has been sold out for every game. They get to chant "Go Knights Go" and support this first year team. It has been the first hockey game for the students and their first American sporting event. These students will always remember this experience – just as we will always remember them.
And just as I am proud of the success of the Golden Knights and what they have accomplished, I am just as proud of the students I supervise this year and what they have accomplished! From soccer games and wins, to amazing performances in shows like Mamma Mia, to marching band and track – they have gone after the "American Dream". They are shining brightly in Vegas.
Wendy Roksvold, ICES Regional Director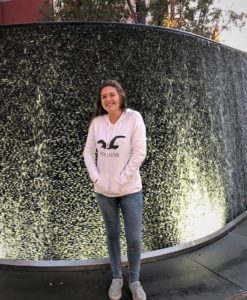 Maria who is an exchange student from Spain made this statement:

My first American sporting event was a Golden Knight's game. It was super! Like Vegas has its team, I do too – the exchange student group this year. Different "teams", same emotions for new beginnings, mix of cultures. Vegas couldn't have asked for a better team and I couldn't have asked for a better year to come to USA to experience it.
Maria is living with the Baldwin family in Henderson, NV