Thank you everyone who make this opportunity possible …
Hello! My name is Alba and I'm going to talk you about the start of my American adventure:
I am right now living one of the best moments in my life, "My American Experience" as an exchange student representing my country SPAIN 🇪🇸 💃🏼!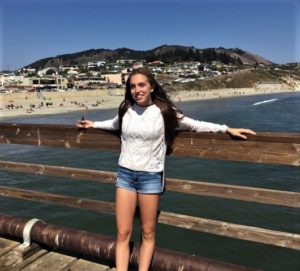 On August 15th, 2017 when I started the trip of my life fortunately I was in the best hands possible. I was really happy that the Book family gave a really warm welcome to America with balloons, chocolate, a welcome board… My adventure wasn't even started and I was already going to Pismo Beach 🌊 … what an amazing start!!!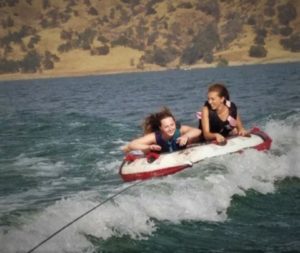 We all have a lot of fun, also on my first week in the USA I went to the lake with all my family Lisa, Tim, Brooke, Brandon…. It was my first time on a boat!!! I was super excited we went on the inter tube.  Laura, a German exchange student from three years ago was visiting. It was one of the most fun days I ever had.  I also went to my first American football match, Our school WON!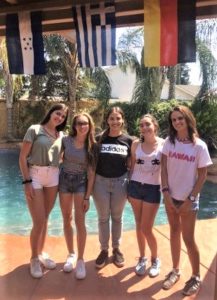 We had a Welcome to America amazing race party, which I meet all the exchange students from all over California and all of them from every part in the world, also I tried for my first time an amazing enchiladas my host mum made…
I wanted to say thank you to my host family, I am super lucky they give the opportunity to be part of this amazing family for the 10 month school program, I really hope we all have an unforgettable year together.  I am super excited to continue doing all this kind of crazy and fun stuff together.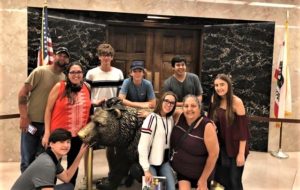 Also I would like to tell you about my amazing weekend in Sacramento me and another exchange students Lucas from Denmark 🇩🇰 and Michele from Italy 🇮🇹 went with Christy and her mum Jessie  (local coordinators) and her families on the Labor Day weekend to Sacramento, I am really happy that they give me the opportunity to go with them because we now know more from each other and I meet a lot of new people I also learn how to play a lot of new games, if I need to choose a favorite thing about this trip it would be really difficult, because everything was amazing however I really enjoyed going to old town Sacramento because it was like the old west American movies, a lot of people were walking with those huge and heavy dresses 👗 the houses, the train 🚂, and everything was like in old times from American history.  I am really lucky that I was able to go, I am going to remember this trip for the rest of my life so thank you for this unbeatable Labor Day weekend. .❤️
🇺🇸  Who was going to tell me two years ago that I was going to have this amazing experience.
Thank you everyone who make this opportunity possible, especially my family Ilda and Javier and my host family Tim, Lisa and Brooke. I really hope that this experience continues because it's been incredible so far!
Alba, exchange student from Spain 🇪🇸
living with the Book family in Clovis, California