Thanks letter from Yuzhi (Jack)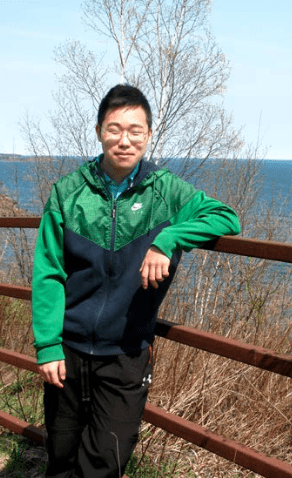 Time pasts like a shuttle crossing, days past like sand dropping from our hand. As those big events come and go; time is coming, for my flight back home. Looking back on how it was these five months makes me have a strong sense of shame that my English can express not even half of my feeling, feeling of happiness, sadness, excitement, and nervousness.
These months, I am always looking for something that can entertain me. I still remember it was February; snow was still covering the ground. I was waiting for the school bus and then a truck went by, snow flowers were blown up and it formed a magnificent shape under the sun, it was shinning and changing. I felt the beauty of winter for the first time. Time moved to March. It was spring break which made me have a great time traveling. From Minnesota to Tennessee, it was a time travel performed by color. The white of winter to the green of spring, I cannot forget stars that performed in the night above the highway. The performance was also involved by my relationship, the secret that I am looking for.
April is right at the middle point. Eight weeks past in a moment. The play performance is too unforgettable for me, at least I learnt several new words. And I figured out that my hair is pretty black on the stage after comparing. The last performance, the final bow. It represents the award for all of us, the poster that we signed and the delicious pizza. After all the lights were turned off, we were about to leave.
I paid another glance, there used to be a classroom, which makes so many memory right there on the stage. No matter how many happy times we had, it will finally end, that is why it is called classroom. If I have to summarize these months, the first word that comes out off my mouth must be music. The concert was coming; it is a battle of reciprocation that I must win. What I care was not the symbol, the solo but the response of smile from the witness of my Chinese flute all these months.
Time to say goodbye is on the way, we all expect Mr. G has some traffic jam before he finally arrives. Thank you Arlette for you placing me so I could have such a prefect experience. Thank you Pat and John for you giving me the first home I had abroad which I will never forget. The happiness indoor and stars above the deck.
Thank you Mr. Kotsmith for you accepting me to become a student here in Carlton High School. Thank you Ann-Cha, Zana, Rebecca, Maeva for you are the first students in our school that I met. The sense of relief to me when I saw all five of us appear on the same bus.
Thank you Joe for you are the first and the best friend I made after January 26th, I can still remember clearly the first day we met. Thank you Ms. Janovick for you are who lead me into the palace of music and guided me on my flute. Thank you Mr. Vogel for you gave me enough freedom to study more. Thank you Ms Effinger for you are the director of the play and made our night that fantastic.
Thank you Alyssa for you wrote me the solo that made my dream come true. Thank you Brittny for you took me to the prom and made me have an unforgettable night. Thank you, all my teachers, friends and classmates. Thank you Carlton for your peace and your people who showed a lot kindness to a Chinese guy coming here to be an exchange student.
I am Yuzhi, but I will prefer to write it as Yuzhi (Jack). I am from China. I am here to answer the question that was asked couple months ago. Yes, I am a spy, a spy here for the secrets of accomplishments, happiness, dreams and memories.
Thanks all of you who appear in my life in this special half-year, I must cherish it all my life.
Yuzhi (Jack)