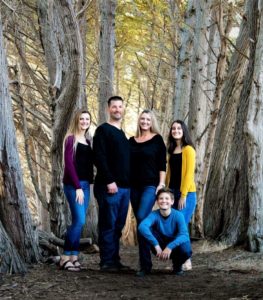 This is an opportunity to live your best life

When people asked me before embarking on this incredible journey, if I was scared, the first fear I mentioned was not fitting into my host family, which is, to my understanding, one of the worries every student has. You are literally hopping on a plane, perhaps even for the first time, and you are leaving everything that is familiar for a year. It sounds scary, and believe me, it might not be easy at the beginning, but this is the best choice you could have made for yourself, your family at home, and your host family.
Saying that me and my host family were meant to be together may sound odd or even pretentious, but I am sure that the incredible relationship that we have built is going to be forever-lasting.
Spending these months away from home has been tough at times, but I have learned so many life lessons that have made me a better person; appreciation, above everything, is the key.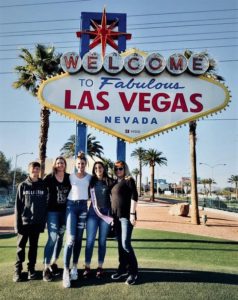 Right now, less than two months away from going back home, all I can say when I look back is that I'm eternally grateful for the opportunity that I have been given: to my parents, who made an enormous effort both economically and emotionally; to ICES, who found a perfect match and has given me an amazing opportunity of meeting students from all over the world; to my high school teachers and coaches, who introduced me to American education and what being part of a team is; to my friends and teammates, who embraced our cultural differences in the best way possible and made every day fun; to my American siblings, grandparents, uncles, and cousins, who didn't hesitate to make me feel part of the family and with who I've had the best times; and finally, to my host parents, for every single day of our journey together, for helping me grow strong and unique, for showing me life in America, for always having my back, and for including me in what I will always consider my second family.
Thanks to the trips ICES has organized during this year, I've had many chances of meeting incredible people from all over the world, and I have sometimes been asked if I was satisfied with my experience and with what I have lived; my answer is a huge yes. If you are as lucky as I have been, don't hesitate and do it: you are going to take home some of the best experiences of your life.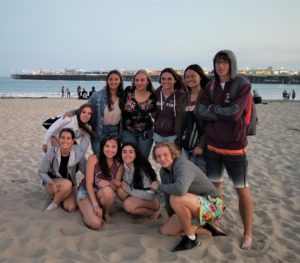 From a weekend in Six Flags during the Fright Fest to a day spent in the Santa Cruz Boardwalk, these trips organized by the coordinators have been really fun and even breathtaking! I've had the opportunity to meet students from all over Europe, Brazil, and even Thailand, and I'll carry all of them in my heart forever. When you're here during your exchange, don't doubt about it and don't miss any trips, you'll have the chance to experience many different things like scavenger hunts on the beach and super fun rides!
Having spent these past months in California has brought me amazing memories and I will always recall these days as some of the best ones of my teenage years.
Every experience is different and unique in its own way, and it can be incredible based on what you make out of it. So hop on that plane with expectancy and desire to discover new things, join sports and clubs and experience your new chapter in the best ways you can find: this is an opportunity to live your best life.
Joana 🇪🇸
exchange student from Spain
living with the Daugherty family in Tulare, California