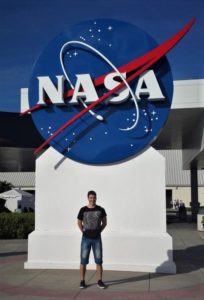 This was an unforgettable trip with my host parents to Florida
I was really excited when I heard that my host parents are planning on going on winter vacation. First it was just to do a mission in Haiti but later they have decided that they might go to Florida before they go to Haiti. They asked me if I want to go with them.
After a month from that point, we were headed to Spokane airport. We flew from Spokane to Denver where we nearly missed our flight because our previous flight had been slightly delayed in Spokane due to cold weather with moisture that created ice on our wings. From Denver we flew to Fort Lauderdale where it was finally warm.
The next morning we went from Ft. Lauderdale to Cocoa Beach. We stopped to see some manatees in turtle center on our way. In the apartment we stayed in Cocoa Beach we have just dropped off our belongings and we went to have dinner with some friends of my host parents in a fish restaurant. I tried there for the first time fried oysters, they were pretty good but I am not sure if I would eat them again.
We had planned to go to Kennedy Space Center early next day. We got up relatively early because we wanted to get there as soon as possible to get a good parking spot. When we got there we went straight to the ticket selling place. Luckily there were only few people (advantage when you get up early and get there before everyone else does). After we bought our tickets we were told that it is good to do the NASA bus tour in the morning when there aren't many people, so we went on a bus tour. We went around the construction hall, we saw a transporter that was headed to pick up Falcon Heavy (the launch was scheduled later that month) and we went around the launching place where there were many rockets launched from. Our bus tour ended in a building where presentations (short films) were shown. In the same building the Saturn V. (biggest rocket in the history) was hanging from the ceiling (it wasn't assembled due to the weight). After lunch break we saw many interesting things in the main center like space shuttle Atlantis, real Astronaut or other rockets. Unfortunately, we missed an autograph signing with that astronaut. After we left the Space center we went to have a nice dinner with some other friends of my host parents.
The next day we left Cocoa Beach and went to a place somewhere between Ft. Lauderdale and Miami. We stopped on our way in Ron Jon (famous store that is only in Florida). We met our friends from Idaho at our apartment.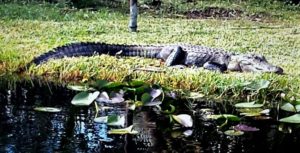 The next day we went to Everglades National Park to see some alligators and crocodiles. In the NP we bought a boat tour in the park in order to see some of the wild life there. After that tour we went to see a "show" where a man was explaining how to approach alligators, etc. Then there was a possibility to hold a mini alligator. I was surprised how smooth it was when I held it. After that we went cruising in the NP for the rest of the day. We saw countless alligators; we have been to the Gulf of Mexico. We came to our place few hours later that day and had our last dinner in Florida. I flew back to Idaho through Las Vegas, and I could at least see some of it from the airport and airplane.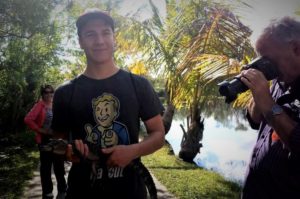 This was an unforgettable trip with my host parents to Florida.
Martin 🇸🇰
exchange student from Slovakia
living with the Roberts family in Spirit Lake, Idaho