Through the eyes of an exchange student
Redmond Proficiency Academy Newsletter, February, 2019
by Mos Suttiwetchakul / Staff Writer and Exchange Student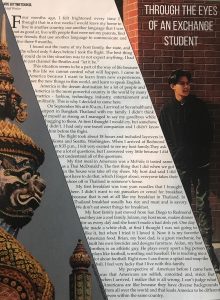 Four months ago, I felt frightened every time I thought that in a few weeks I would leave my home to live in another country, use another language that I was not as good at, live with people that were not my parents, find new friends that use another language to communicate and live there 9 months.
I found out the name of my host family, the state, and the school only 5 days before I took the flight. The best thing I could do in this situation was to not expect anything. I had to just channel the Beatles and "let it be." This situation seems to be a part of the way of life because in this life we cannot control what will happen.
I came to America because I want to learn from new experiences, see the new things in this world, and learn to speak English. America is the dream destination for a lot of people and America is the most powerful country in the world by many metrics – fashion, technology, industry, entertainment and militarily. This is why I decided to come here.
On September 5th at 6:30 a.m., I arrived at Suvarnabhumi airport in Bangkok Thailand with my family. I didn't think of myself as strong as I managed to say my goodbyes while hugging to them. At first I thought I would cry, but somehow, I didn't. I had only one travel companion and I didn't know him before the flight. The flight took about 18 hours and included layovers in Korea and Seattle, Washington.
When I arrived at Redmond at 8:35 p.m., I felt very excited to see my host family. They ask me a lot of questions, but I answered very little because I did not understand all of the questions. My first meal in American was a McFish; it tasted same as a Thai McDonald's.
The first thing that I did when we got in the house was take off my shoes. My host dad said I did not have to do that, which I forgot about, everyone takes their shoes off in Thailand in someone's home.
My first breakfast was tom yum noodles that I brought here. I didn't want to eat pancakes or cereal for breakfast, because that is not at all like my breakfast in Thailand. In Thailand breakfast usually has rice and meat and is savory. We don't eat sweet things for breakfast.
My host family just moved from San Diego to Redmond and they are a cool family. Julann, my host mom, makes dinner for us every day and she hasn't made a bad dish yet. One day she made a white chili, at first I thought I was not going to like it, but when I tried it I loved it. Now it is my favorite American food. Brian, my host dad, is a great mechanic, he built his own lowrider and designs furniture. Aidan, my host brother, is an athletic guy. He plays every sport a big person plays like football, wrestling and baseball. He is teaching me a lot about football. Right now I can throw a spiral and snap the ball. I feel very lucky that I live with this family.
My perspective of American before I came here was that Americans are selfish, conceited and, strict. But when I arrived, I realize that is all wrong. I can't judge what Americans are like because they have diverse backgrounds from all over the world and that leads America to be different even within the same country.
Mos
exchange student from Thailand
living with the Moore family in Redmond, Oregon