Article on LinkedIn, May 3, 2016
by Linda Deutmeyer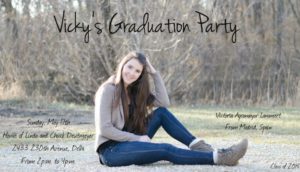 Host what? Foreign Exchange Students. Why?
The first reason to host a foreign exchange student to to help promote world peace. When families come together and share teenagers, something magical happens. Understanding between two different worlds begins to take place when both families share a family kind of love for a brave young high school student.
Foreign Exchange Students have to be brave to spend a semester or a whole school year away from their original families. They also have to be open to new experiences. They also have to remember they are representing their country and become part of a new family.
Foreign Exchange Students are generally age 15-18 years old. They are also usually are a top student in their class, and have command of their own language as well as the language of the country that they are seeking to be an exchange student in. They are students that want to learn about another country, become a member of one of that country's family, and want to be treated as a family member, not a guest. They come with their own spending money and insurance. Host families choose to give them a home and share their family meals with them.
Being treated as a family member means that exchange students must expect to do family chores, and not be treated as a guest. They need to follow family rules, and they need to know that the adults in the family will guide them in their journey to adulthood. This means that they will be parented by their host parents and sometimes host parents will have to set boundaries. If the exchange student teenager breaks trust, they need to hold the student accountable, and perhaps even take away some privileges until the teen that has make a mistake earns family trust once more.
Host parents are people that will welcome another young person into their family and want to provide wonderful new experiences for them. Sometimes they will take the students special places, sometimes they will attend the students extra curricular activities, and sometimes they will provide the extra support the young person needs in their life.
What are some of the risks of accepting a foreign exchange student into your home? Sometimes, the students come with different expectations than they are presented with. Families can e-mail, Facebook, skype, and write letters about their backgrounds before they accept a match. Most of the time area representatives are skilled in matching up families into a good fit. Most of the time the matches work out very well.
But what happens if a match does not work out? First of all, area representatives check up on the students and families to make sure the matches are working out. If problems come up, they meet with the students and the host families to come to a new understanding. If a new understanding is not in the best interest of the student or the host family, changes can be made to find another home that works better for all concerned.
What makes a successful foreign exchange student? It is a student that can be flexible in fitting into another kind of family in the country they choose to come to. Perhaps they will come to a home that is not as fancy as their own home, or perhaps they will come to a home that has some different family traditions that they need to do their best to adjust to. It is a student that is willing to make new friends and try new experiences. It is a student, in this day and age, that can sometimes shut off their cell phone and interact with their new family and friends person to person. It is a student that does not just stay in their room, but a student that is willing to interact with all members of their host family.
I have met a variety of foreign exchange students. I have had some living in my home and I have acted as an area representative for an organization that works at finding homes for foreign exchange students. I have met many that have had a great experience with their exchange families and visa versa. I have met some students that worked through their homesickness with their new families, and some students that choose to return home. I have met some students and families that had less than terrific experiences and wanted a change. Most of the students and the families that I have worked with have had very positive experiences and have gained new international family members that they love and stay in touch with far beyond the exchange year.
So, to host or not host an exchange student? The answer lies in whether you are willing to reach out to members from another country and try to establish connections that help create world peace. Becoming a foreign exchange student or a host family is a matter of deciding if this is a way that you will take a chance on to help work for world peace. And who does not long for world peace? Host an exchange student and become a peacemaker in our world.
(Linda Deutmeyer was an ICES host mom, in Iowa, of our senior student Maria Victoria Agromayor Lammert during program 2014-15. Victoria appears on the picture. Victoria is presently in Iowa attending College. Linda and Victoria still now maintain a strong and loving relationship. And Victoria's natural mother is since past September working successfully with ICES Spain.)