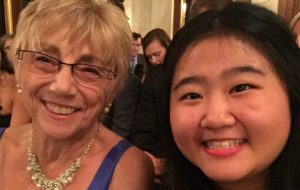 Little did I know how exciting and rewarding my life would become
'What a difference a year makes' is perhaps a trite and over-used expression in America but oh so true in my life!
Last year, some time late in February, I received what I thought was an unusual call from a very jolly man (George Barley) asking me if I would consider hosting a foreign exchange student from an organization called ICES for the upcoming school year. After much soul searching and deliberation, I decided to leap into this unknown work, and with the support of George, chose a teen from Thailand, Norakamon.
Little did I know how exciting and rewarding my life would become.
By our second correspondence, I knew I was in love with my Thai daughter, Pin, as she is known. Very excitedly, I became involved in what seemed like an endless countdown until her arrival in North Carolina.
Being childless all my life, if I had had the gift of ordering a daughter, she would have embodied all the fine character traits of my Pin. She daily enriches my life and has fulfilled the long lost dream of mothering a child.
Although some individuals would claim coincidence, I believe it was divine intervention that brought Pin into my home.
Something memorable and precious occurs every day whether we are cooking, bike riding, taking a walk, reading, doing homework, teasing the dogs, watching a movie, building a ginger bread house, shopping or just conversing.
She is a joyful person, friendly, funny, conscientious, caring, appreciative and most of all loving.
Her parents have raised a very special daughter and I am so thankful to them for letting me share in her life this year.
As we prepare for Christmas together, I am experiencing once again the anticipation and excitement of this magical time through the eyes of "my daughter" who has never celebrated a Christmas.
My life is truly blessed and I am so grateful to the ICES foundation and George Barley for this unbelievable opportunity. My prayer is that in some way I can give back to Pin a little bit of the joy she shines on me each day.
Jay Heisch
ICES host parent, North Carolina
Hosting Norakamon from Thailand 🇹🇭