Vietnamese exchange student in Patterson
Patterson Irrigator, Patterson, California, May 28, 2020
by Cee Cee Howell / author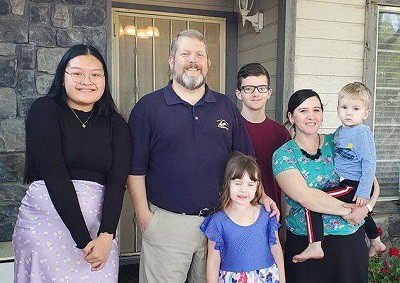 Ngan Doan, known by her new American family and friends as "Nan," has been in the United States since August 9, 2019. Originally from Ho Chi Minh City, Vietnam Doan is a 15-year-old sophomore at Patterson High School.
Doan was placed at Tim and April Benefield's Patterson home through International Cultural Exchange Services (ICES). International students 15-18 years of age can participate in the exchange program for one year on a J-1 visa.
Experiencing American life has been exciting for Doan. The Benefield's took her to San Francisco's Golden Gate Bridge and Pier 39 when she first arrived and later to a Lakers game. However, her favorite experience by far was going to the Christmas tree farm.
She remembers being quite cold but enjoyed cutting down the family tree and receiving a personalized tree ornament as a gift from the Benefield family.
Doan has nothing but good things to say about her time as a student at Patterson High School. Crediting Mr. Galvan's Medical Terminology class with improving her English, she looks forward to a potential career in the medical field. She has been reading Emergency Doctor by Edward Ziegler for fun.
She was surprised at the difference between schools in Vietnam and American schools, noting that the ability to choose which classes to take was indeed a foreign concept. Vietnamese students do not have the luxury of choosing which subjects to study, and she really liked having different options. Unfortunately, though, the credits she earns here in America do not transfer back to Vietnam.
PHS students have been very accepting of Doan. She was expecting to be teased for her accent but hasn't experienced any negative interactions. Instead, she has made several close friends and cherishes the memories she has made. Although she was mildly disappointed in the way her school year ended, she isn't overly upset by the way the pandemic and stay-at-home orders have affected her stay.
She spends most of her time with her host family, going to church, and creating art. She draws and makes intricate, folded paper designs, but she really enjoys practicing lettering and working clay.
She will miss carne asada burritos from Ernie's Taqueria and has a newfound appreciation for Tapatio hot sauce, which she often mixes with Sriracha. A perfect meld of California Mexican American and Asian cuisines.
Wanting to extend her stay in America, ICES lined up a new home in Tacoma, WA, for Doan. She's just waiting for the Vietnamese Embassy to approve her request.
The Benefield family has enjoyed their time with Nan and looks forward to hosting their next student from Germany.
If your family is interested in hosting an exchange student, call Dana Haskill of International Cultural Exchange Services at 209-818-2533. You can also visit the website to get more information at www.icesusa.org.