We have a relationship for life
The time is running so fast. I can't believe that my American adventure is already half way over.
When I decided to do exchange I was excited but also little scared.
Who would not be if he is so far from home? However, since the first minute here I loved it. It is a great experience and I would not change it for anything. It is really hard to believe that I will have to leave in few months. I miss this place, this family and this experience already now.

This exchange program gives me more, than I could ever ask for.
I haven't only learned many things about the new culture, but also made many new friends. We participate in many school activities and nearly half of them we also organize through the SLC like school dances, community services and even more. I have tried things I would never try back home.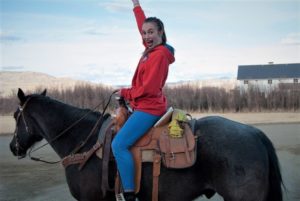 My host family supports me in every activity I decide to do, like hockey, dancing, art, horse riding and many others. We have a relationship for life and I can say   that they are really my family.
Michaela 🇸🇰
exchange student from Slovakia
living with the Wenum family in Gunnison, Colorado