A hockey player – finally!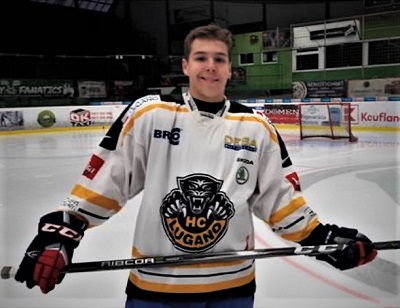 We are huge hockey fans. It may seem weird to be hockey fans in the middle of the Mojave Desert – Las Vegas, but many of us here in Vegas came from somewhere else (Michigan and New York for us). I have been hauling hockey bags across town for over 20 years. Our oldest son played (and still does), our youngest is a goalie. We were so excited when we were able to select a young man from Slovakia who loved hockey as much as we do! Boris is 17 years old and has been playing hockey since he was 3 years old. Our youngest son, Gunnar is 14 years of age and has been playing as a goalie for the last 5 years. This was going to be fun – we'd have a shooter to shoot on our son the goalie! I envisioned more dings in our garage door and many a night watching hockey. We had selected Boris as our student last November. We had been conversing with him for months. And then COVID-19 hits.
School switched to online in March in Las Vegas, the hockey season came to a screeching end. We were quarantined to our homes. There was so much uncertainty. We kept asking Boris if he was still ready to come to Vegas in August in the midst of a pandemic. Of course he said yes, he couldn't wait to arrive in Las Vegas and attend a Golden Knights game (we are season ticket holders). We kept in touch in the months that followed.
During the summer we received news that our school district decided to cancel their Exchange Student Program. Students that had been accepted previously were being denied. Panic set in. We had waited 8 years to find a hockey player that wanted to come to Vegas. There was so much uncertainty and now sadness too. We heard his heart break when we spoke to him to tell him the news that he couldn't come to Las Vegas as the school district had shut down the exchange program.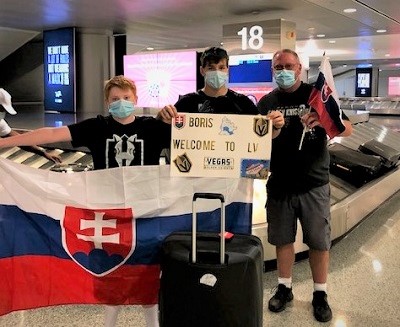 We didn't go down without a fight, we found a solution – a State Sponsored Charter School that would accept Boris for the school year. Vegas schools were starting online for the first semester. We reached out and shared this news with Boris and he was ecstatic! This was the beginning of August, he asked if he should bring his hockey gear and we said of course! He arrived just days later with his hockey gear, his suitcase and a huge smile behind his mask. School wasn't going to be the same – but he is in Vegas with our family and he is going to get to play hockey and eventually will attend a Golden Knights game.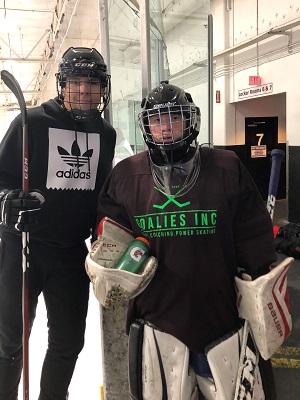 He's been here five weeks and we've already done so much. He tried out for the Golden Knights High School Hockey Team and made it! Our son made his travel team too so we will be heading to the ice rink at least six days a week (about 30 miles each way). When COVID-19 settles down we will be attending Golden Knights and the AHL Henderson Silver Knights hockey games. He can't wait. The new practice ice rink for the Silver Knights is across from his High School in downtown Henderson so he will be able to get ice time with Gunnar more often.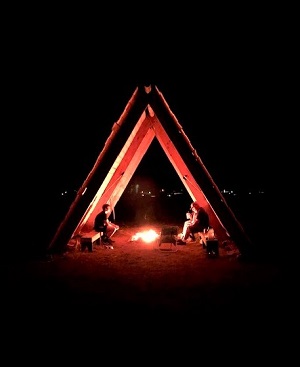 While we had a chance before their hockey season takes off, we took Boris camping in Utah over Labor Day weekend. We enjoyed the stars, campfires and he helped my college roommate build a deck on their cabin. He was taught how to do footings and use a power screw driver to build a deck. He's willing to learn and try so many new things. Food included – he wants to try it all!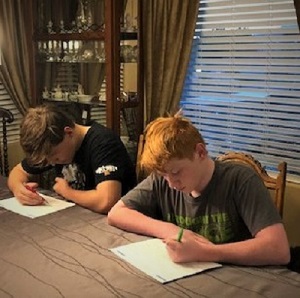 We've watched what feels like a hundred hockey games together. The boys even worked together to pick who would win the Stanley Cup. They were concentrating so hard here: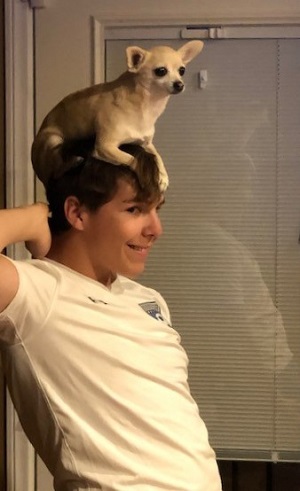 Both Gunnar and he share the love of hockey and talk about plays, penalties and goals together. The Golden Knights, unfortunately got knocked out of the playoffs last night. After the game, Boris helped Gunnar wrap Gunnar's goalie stick with new purple tape (his new team color), and then he wrapped his stick. When they aren't involved with hockey – they are having fun playing video games together, chasing each other around the house or posing with our Chihuahua, she is such a good sport for their crazy ideas.
When a student fits with your family, the time goes by so quickly. We are so happy that Boris was able to make it to Las Vegas – the road to get here was hard but the first five weeks have been busy and fun!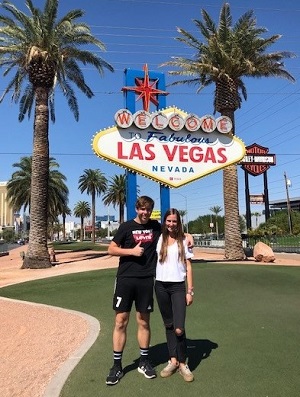 Here's Boris with another exchange student in Las Vegas, Lucia from Spain, at the "Welcome to Las Vegas" sign on Las Vegas Boulevard following Gunnar's hockey "scrimmage" on Sunday (we brought her to her first hockey game of course)!
Hockey is Life – our life. A famous hockey player (Wayne Gretzky) once said, "You miss 100% of the shots you don't take". We are glad we took a shot at having Boris with us this year, even in the midst of a pandemic – whatever it takes! Score!
Wendy Roksvold and Family
ICES host family in Las Vegas, Nevada
hosting Boris from Slovakia