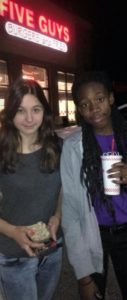 A sister for Nyasia
Getting to the point of hosting my first exchange student is truly a funny story. I applied with ICES in early January 2013 and the application sat in a draft state until the very next year. Within a week of submitting my application the district leader reached out to me as she noticed that I work for Turner Broadcasting and she said her husband also works there. As it turned out we both work in the IT section of the organization, and at that point I knew I couldn't let a fellow coworker down and I went ahead with my application.
Talking to my friends and family, they were apprehensive about me hosting an exchange student, knowing about my workload, upcoming dissertation and community involvement. My daughter Nyasia, then 13 years old who with her youthful wisdom said not to listen to their concerns, to take the chance and I decided to let her select the student would be living with us for the next year. We spent several hours going over the applications and with a small set of pre-determined criteria that we decided were important for us as a family, my daughter selected Ingrid Jonas from Cologne, Germany.
When we knew that Ingrid accepted our offer, the girls immediately found each other on social media and began talking. Even before I started talking to Ingrid's parents, Joachim and Friederike Jonas, the girls had started sharing their likes and dislikes around music, food, activities with each other. Ingrid begun asking major questions about her new school and what should she expect when coming to America and specifically, Norcross, Georgia.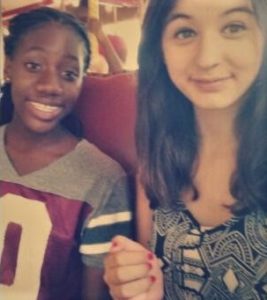 It's been seven months now since Ingrid became a part of our unique family, she has experienced our local city in several fun ways – volunteering at Norcross Art Fest, Gwinnett Neighborhood Leadership Institute annual new class retreat, and on Martin Luther King, Jr. Day of Service. Ingrid even experienced her first Norcross Blue Devils 5K on a cold wintery morning to support one of our neighbors Lia Teng of the Norcross HS Cross-Country Track Team. She is managing her class load at Norcross High School and maintaining her required grades, all the while still working with her teachers in Germany as she also has assignments to submit on a monthly basis.
I asked Ingrid, what has been her favorite experience since living with us and what comes to mind for her were the vacation trips we made to Tennessee and Myrtle Beach. She is such of lover of anything food related, our Thanksgiving and Christmas family celebrations won hands down as the best days ever. Another highlight for Ingrid, were the visits from my sister who lives in Barbados, she affectionately calls my sister "Auntie Deborah." As a visitor to Atlanta, Coca Cola, Atlanta Aquarium, and CNN were a must. Topping off her cultural experience was our weekend getaway to Jeju Korean Spa and Wellbeing.
With three months remaining heaven only knows what the Beckles' family plans are for our newest family member!
Arlene Beckles
Host mom in Norcross, Georgia